FREETOWN, Sierra Leone — When a mother dies in childbirth in Sierra Leone, which happens way too frequently,  the news spreads only in whispers: "The calabash broke." A woman, tradition says, is like a treasured calabash gourd, and her death, while struggling to bring forth life, brings shame to her community. For that reason, the extent of maternal mortality in the country has often been cloaked in silence.
That is changing. Sierra Leone has just launched a major push to reduce maternal mortality, including free health care for pregnant and lactating women and their children under five, as part of a wider effort supported by the African Union, UNFPA, the United Nations Population Fund, and other partners. In conjunction with this effort, Isa Blyden, a UNFPA communications advisor, and a small film crew, set out to document the risks of childbearing in Sierra Leone, a country whose health care system has not recovered from the 10-year civil conflict that ended in 2002.
Blyden herself had once miscarried, "but the calabash hadn't broken that time." In Sierra Leone, with perhaps the highest rate of maternal mortality in the world, she could count herself lucky. One out of every fifty pregnancies in Sierra Leone result in death, according to UN figures, and one in seven women eventually dies as a result of pregnancy or childbirth. During the filming, the film crew ran across dismal conditions, struggling health care systems, dwindling supplies and shattered hopes.
Triplets and tragedy
Composed by Sierra Leone Women Artists
At a hospital in the northern province of Koinadougo, for instance, Isa and her cameraman met a woman who had delivered triplets the night before – a very unusual experience in Sierra Leone. The babies were healthy but the woman was weak, emaciated and in need of blood. She had been given one pint, but hadn't the money for more, so the visitors paid for a second pint.
The mother was on an antibiotic drip to clear an infection in her womb. Opposite where she lay, an empty and bloodied bed frame indicated where another mother had died the previous evening.
The next day the new mother seemed stronger and was up and walking. The children seemed in good health: one baby who had been gasping for life had been stabilized. The nurses were hopeful that the mother might pull through. However, ten days later Isa learned she had died. "These difficult experiences became part of our film," she said.
Traditional practices, poverty and a struggling health care system combine to make pregnancy a life-threatening event for women in Sierra Leone. Maternal death is most frequent in remote rural villages, where access to health care during pregnancy is often delayed or limited, or resistance to it is common.
A struggling health care system
In the northwestern Bombali District, in a village called Magbolleh, women from six surrounding communities gathered at a small maternal child health post to tell the film crew their stories: about traditional secret society initiation and adolescent marriages as well as community hesitation about modern health facilities and care.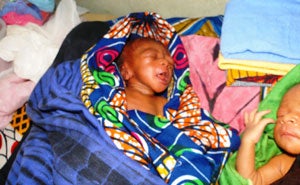 The village, they said, had a tractor ambulance that served as both a farming implement and as emergency transportation to the nearest government hospital, about seven miles away. The village's 1,000 residents were grateful to have it.
A maternity ward in the government hospital in Magburaka in Tonkolili District was typical for the country: dim and in need of renovation. The beds had no sheets or pillowcases and sanitary conditions were poor. The paediatric ward, where children lay dying, was worse. In the small rural community of Magbass, the maternal child health post that served five surrounding communities was a half-broken house with an unsanitary delivery room.
The nurse there said most area women could not afford the delivery fee (equal to about $3.50) and so were allowed to pay $1.50 or less in the hope that after the harvest they could pay the balance, possibly in produce.
Despite a law that prohibits women from giving birth at home, many Sierra Leone women still do so because it is much cheaper than the health clinic: the midwife will receive perhaps a bucket of the traditional palm wine and two cola nuts, token fruits generally used for negotiations, and to bring good luck or peace.
New campaign aims for change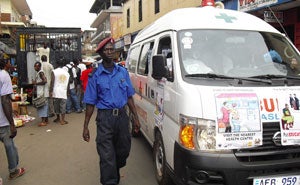 The recently launched the Campaign for Accelerated Reduction of Maternal Mortality, or CARMMA, aims make quality health care universally available, especially services related to sexual and reproductive health. The initiative drew enthusiastic support from Sierra Leone's First Lady Sia Nyama Koroma and then from her husband, President Bai Koroma.
Both took part in the CARMMA launch on the grounds of the Princess Christian Hospital in Freetown, recently renovated under grants from UNFPA and the Government of Japan. A highlight of the launch event was the premiere of Isa's film, "Broko Calabash – Maternal Death in Sierra Leone: the Causes." (The word "broko" means "broken" in the national Krio vernacular.) Nearly 300 pregnant women marched from the city centre to the hospital, along with nurses and doctors, school students, youth advocates, market women and representatives from civic organizations, as Freetown residents watched and applauded.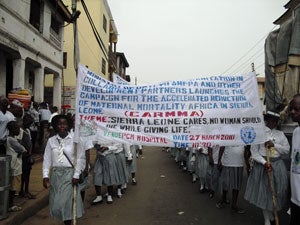 Sierra Leone's Grafton Mineral Water company donated 2,400 bottles of mineral water for the pregnant women, with a special CARMMA label printed for the occasion. Comedian Wan Pot, an advocate against maternal deaths for Amnesty Internationa, performed a skit and popular local disk jockey Loulou sang a song she had composed, "Pikin Nor For Born Pikin" (A child should not bear a child).
The finale was a stirring theme song composed by Sierra Leone Women Artists: "No! No! No! Belle Human Nor Fo Die!" (No! No! No! Pregnant women should not die!) Later, the First Lady hosted a reception and Isa's film was shown. Another group of musicians, SKP Productions, performed selections from the film's musical score that they composed, "Belle human" (pregnant women).
Through all of this, the First Lady has credited UNFPA for its nationwide work to reduce and end maternal death in Sierra Leone, acknowledging the agency as number one in health care in the country.
"To me, this says it all," Blyden said. "Maternal death is no longer a secret in Sierra Leone! And I am very proud to have helped tell everyone the news."
—Adapted from a report by Isa Blyden