POCOATA, Bolivia — Bolivia has one of the highest rates of maternal death in the hemisphere, after Guyana and Haiti. The consequences have been devastating, particularly for some of the most vulnerable people in Bolivia – impoverished, rural indigenous women.
Access to maternal care has been limited by inadequate infrastructure including medical facilities. However, an equally important factor is the fact that indigenous women who have managed to get to clinics have often been treated as second-class citizens, scorned because of their gender, their ethnicity and their traditions.
A majority of indigenous women prefer to give birth at home in their kitchens, assisted by friends and relatives or birth attendants without formal training. But the cost is high. Each year over 600 Bolivian women die in childbirth, a very high number for a country with a population of just over nine million.
However, a new midwifery training programme, financed by UNFPA, the United Nations Population Fund, improves care to indigenous women while assuring greater respect for their culture and traditions.
The programme recruits prospective birth attendants from within the remote communities to provide them with tools to better serve their community. It also rewards women in the communities who seek ante-natal care and institutional deliveries with financial incentives, says Jaime Nadal Roig, the UNFPA representative in Bolivia.
"The new midwives will need to be adamant about improving care when they start working," says Arminda Fuentes who is responsible for the new training programme in Pocoata, a mountain community in southwest Bolivia. She taught the first class of midwives to be educated in Bolivia since the 1970s, when resistance from the country's doctors led to the cancellation of the former midwifery training programme.
Dying to give life with dignity
"I stayed at the hospital for three days without receiving any help whatsoever," says Isidora Negreti, a mother of nine who had such bad experiences at the hospital that she opted to have five of her children at home. "The doctor said I should know how to give birth by myself. I was lying on my back in a gynaecologist's bed, but I couldn't stand the pain so I got down on the floor and had my baby there. Afterwards, I was told off by the nurse.
"It has been easier to give birth at home," she adds. There, she was cared for by her mother and was able to move around freely until just before the delivery. Still, she is aware that home delivery is a risky affair. She knows of several women who have bled to death in childbirth.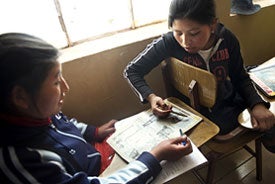 Isidora is not the only one with traumatic memories from hospital stays. In Bolivia, relatives are not allowed to be present during deliveries, and hospital personnel can be condescending and inhospitable. At times, pregnant women, who would traditionally be moving around and making themselves comfortable, are tied down to stop them from changing positions. For first-time mothers, an episiotomy (a surgical cut in the opening of the vagina) is routinely used to speed up deliveries.
A new generation of midwives
A new generation of midwives could change all this. They are being trained at three rural universities at the initiative of the Bolivian Society of Nurses and with support from UNFPA.
The students are recruited from remote local communities and expected to return to their villages after they graduate. The programme teaches them technical skills to detect complications before, during and after the delivery and the ability to perform life-saving interventions, including prompt referral to a higher level of care when necessary. At the same time, these new health care workers are expected to build close ties within their communities and to be culturally accepted by the local women.
The pilot project is also part of the government's new health-care policy, which aims to respect the indigenous population's culture and to end institutional discrimination. Despite the fact that well over half of the population are indigenous people, their traditions have often been treated with contempt. The new midwives will therefore play an important role in supporting their human rights.
"There has been a perception that indigenous people do not really belong to society. But under the current president, Evo Morales, their culture is given more space," says Lilian Calderón of UNFPA.  In fact, under his administration, the country's name has been officially changed to the Plurinational State of Bolivia. Calderón is hopeful that the new project will yield positive results. Universities around the country have shown interest, and there is strong governmental support. Still, changing attitudes within the health-care system is a big challenge.
Some doctors and gynaecologists see midwives as competition, said Ms. Calderón, adding, "We hope that the students will stay in rural areas. There, they will make a big difference."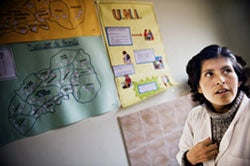 Making a difference in remote and exploited parts of the country
The road up to Pocoata runs up along the high, barren Andean mountain slopes. In a field, a mother and her two daughters struggle with a plough. Down in the valley runs a muddy river. The water is red from sludge stirred up by the region's gold diggers. Precious metals have been exported from these remote parts of Bolivia for centuries, yet this district is one of the poorest of the continent.
Arminda Fuentes shows us around Pocoata's new hospital where the midwives will train with the head doctor, Presciliano Moralez. He tells us about the difficulties aiding those in need. A corridor is lined with light-weight motorcycles, an important tool for carrying out the hospital's work. "Mortality rates are high because many live in hard-to-reach areas. Last year two women died. But there are many deaths that we don't even find out about," Moralez says.
Bridging modern medicine and traditional practices
Presciliano Moralez, head doctor at the Pocoata hospital in Bolivia is well aware that many women shun hospitals because they are not comfortable with the treatment they receive. "They have their own traditions and many prefer getting help from friends and family or from local medicine men, who often have no training at all. In order to save patients it is necessary to combine traditional medicine with modern biomedicine. But it would be difficult to get health-care professionals to change attitudes overnight," he says. However, midwives who live and train among indigenous people may be able to bridge these two worlds.
Moralez opens a door to a bare, tiled room with a kitchenette, designed for the new training program, where relatives can assist the birthing women by preparing herbs and traditional medicine to be offered alongside Western methods.
The midwifery training is five years long. While all of the students believe the program will improve pregnancy outcomes, some of the women have a very personal feeling about their chosen profession. "Pregnancy is not a disease. I will never treat anyone the way I was treated when I gave birth," says Sandra Ibañez Tumiri.
-Jon Pelling
Advocacy in Action
When BBC aired the UNFPA-supported documentary 'Bolivia- Nurses on the Frontline', the Fund sought to maximize its impact. The country office arranged a screening of the live broadcast, which was attended by Bolivian Minister of Health and over 120 high profile guests including members of the government, ambassadors and the media.
After seeing the film, the Government and the Ministry of Health, pledged their support to create midwifery schools in Bolivia in three public universities. In a country where access to maternal health care is virtually non-existent for many poor women who live in rural areas, this was a critical first step towards reducing  maternal mortality.