GARM, Tajikistan — On a late afternoon in a small village near the town of Garm a group of women are sit cross-legged on the brightly coloured padded quilts that are a fixture in all Tajik households. Outside the jamoat – or community centre – a chilly wind flattens the rough grasses surrounding this tiny collection of one-storey houses.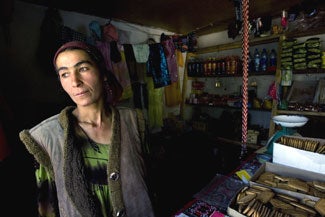 Garm is at the gateway of the Alay mountain range, an extension of the Pamir plateau that reaches through China, Afghanistan and into the rugged country of Tajikistan. It is a wild, dry and remote place that glitters in the autumnal sunlight. The light glints off the nearby river and bounces off whirling leaves of aspen.
Inside the jamoat, a three-roomed building with broken windows that stare out jaggedly from the wattle and daub walls, five women are eagerly leaning forward and talking all at once about micro-credit, HIV, human rights and how the pilot Migrant Wives Project, supported by UNFPA, the United Nations Population Fund, has transformed their lives.
Empowering migrant wives
Their brightly coloured salwar kameez – traditional garments with billowing skirts and gathered bodices – contrast with the dark green of the wall behind the women. The youngest is 27, and the oldest is 54, but they all have one thing in common: their husbands have left to find work in the Russian Federation. Some will never return.
"Before this project the thought that my daughters could work wouldn't even have occurred to me. "
--Guliston Hakimova
Guliston Hakimova is one such migrant wife. Married for 12 years and the mother of four children, she found herself completely alone after her husband remarried in the Russian Federation. "Life was very difficult," she says. "I could only feed the children potatoes and water, and I became very depressed with the situation." With the help of the Migrant Wive's Project, Ms. Hakimova was able to purchase the cow whose milk now feeds her children and whose dung now warms her stove.
Nozegul Kengaeva, 31, is another migrant wife. Four years ago her husband left for the Russian Federation and never came back. With five children to feed and no income, Ms. Kengaeva was desperate.
A year ago, she followed her father-in-law's advice and joined the Migrant Wive's Project. The one goat she purchased with a micro-credit loan has proven to be extremely prolific. Eighteen goats now scamper around her small compound, and her children, mature beyond their years, are well fed and clothed for the winter. "I am so happy," she says. "I am independent, and my children can go to school."
There are many like Ms. Hakimova and Ms. Kengaeva: women who are benefiting from minute amounts of cash judiciously dispersed – with strings attached. Through the Migrant Wives Project, UNFPA and partners provide HIV-prevention services and address issues of reproductive health, poverty, gender equity, human rights and gender-based violence through the provision of micro-credit. The thinking behind this innovative and far-reaching programme is that women cannot be empowered unless they can feed themselves and their children. And they cannot become economically dependent without loans – some of which are as small as $50 but no larger than $100. With an investment of only $3,000, UNFPA and partners have quite literally altered the mindset and economic fortunes of an entire community.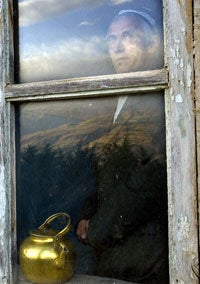 Past meets present: Tajikistan at the crossroads
Like all of the republics of the former Soviet Union, Tajikstan is at a crossroads. Following the collapse of the Soviet Union, the country descended into a ten-year civil war that shattered a way of life that many had come to take for granted. When the dust finally settled, more than 50,000 people were dead, and Tajikistan hit bottom with the lowest GDP of the 15 former Soviet republics. This year, Tajikistan is experiencing the harshest winter in decades, which has prompted a food and energy crisis.
In the late 1990s, while Tajikistan foundered, the Russian Federation, its neighbour to the north began to pull itself out of the recession that followed in the wake of the Soviet Union's fragmentation. With skyrocketing oil prices and an abundance of timber and other commodities, the Russian Federation is booming: It is undergoing a rapid 'economic transition', which, in turn, is fuelling a construction boom.
Between a rock and a hard place: Migration to the Russian Federation
In order to support their families, many Tajik men and, increasingly, some women, are faced with an unforgiving imperative: leaving one's family in order to provide for them. In some regions of the country, entire communities have been emptied of young men. In the Garm region, fully one-fourth of an estimated population of 12,000 are working in the Russian Federation or the Gulf States. Most, if not all, are young men a situation that is repeated throughout every region except in the capital city of Dushanbe.
Left behind are hundreds of thousands, if not millions, of women and their children. While remittances from abroad are a mainstay of the 'shadow' economy, in reality, too many women are left alone to fend for themselves and their children.
The 'first wave' of migrants were skilled workers who spoke Russian. The second wave came of age during the war, when schooling was disrupted and the economy in shambles. These migrants have few skills and speak no Russian. Many are unable to earn enough to pay their own way, let alone support their families. Unsafe working conditions, poor housing, discrimination and malnutrition create an uncertain and difficult road for migrants. Between January and September of 2007, 200 men returned home -- in caskets.
Many migrants however, prefer to stay abroad and forget the harsh life and arranged marriages of their homeland. Back at the jamoat the stories come thick and fast, and all are heartbreaking in their similarity. There is 45-year-old Barno Norboeva, whose husband left for the Russian Federation eight years ago and never came back. Today, he is remarried with young children and never calls "unless I call him first." Like so many migrant wives, Ms. Norboeva was unable, before the micro-credit project began, to support their five children with the produce scratched out from her tiny garden.
Twelve months later, she runs a small shop that sells sweets, fabric and a host of other small necessities. Her children are now going to school, and she is talking to her eldest daughter, who will soon be married, about family planning, reproductive health and how to protect herself against HIV. This last issue, says project director Katoyan Faromuzova, is particularly critical.
Low prevalence but high risk: Tajikistan, HIV and migration
Many experts believe that Tajikistan, which is still considered a low prevalence country, is poised on the brink of a 'generalized HIV epidemic" owing to a combination of drug and human trafficking, poverty, injecting drug use and migration. A 2005-2006 Ministry of Health survey undertaken in two cities showed a high level of HIV infection among drug users, sex workers, prisoners and migrant populations, The survey indicates that HIV is spreading rapidly among the general population, according to UNAIDS. Migrants are vulnerable because they are away from their family, often work in harsh conditions and are more likely to engage in high-risk behavior such as injecting drug use and unprotected relations with sex workers.
The provision of micro-credit has not only improved the quality of life for migrant wives and their offspring, but is an important starting point for discussions about HIV and reproductive health in general, according to Ms. Faromuzova.
"You can't encourage behavioural change – especially around HIV – without addressing the root cause of migration, which is poverty," says Faromuzova. "These women are intelligent and committed to feeding and caring for their children. We give them the tools to empower themselves. They tell their friends and children, and they in turn tell their friends and children." This 'cascade effect' is now being felt throughout the Garm region and is manifesting in some surprising ways.
Changing power dynamics as well as finances
Kutbidin Kadirov is the officer in charge of audits for the Garm Jamoat. A small wiry man, Kadirov sports a benign expression below his traditional Muslim cap tilted slightly askew atop his grey, tightly cropped hair. He says that not only are the women becoming more aware of their rights, but so too are the men. "From my point of view, since the project started one year ago, there's been a lot of change," he says. "At first, we as men tried to teach women more skills. Then we started to learn something from the women. Because of the project, we men are starting to change our relationship towards women. We respect them more and are also learning about gender issues and human rights."
The changes have been both overt and subtle, according to Mr. Kadirov. Prior to the Migrant Wive's Project, most women didn't know how to manage money, write a business plan or even apply for a passport – the basic form of identification without which no adult Tajik can set up a bank account, apply for a loan, or leave the country. Men would not sit or speak with women who were not close kin. "But now I have spoken to more than 1,000 women and they have taught me a great deal. I was very surprised," he said.
"I married my eldest daughter off because we had no money, says Ms. Hakimova. "But I want my second daughter to go to Dushanbe to study nursing. Before this project the thought that my daughters could work wouldn't even have occurred to me."
"If you help women, you help society as a whole," adds Mr. Kadirov. "We are seeing it with our own eyes."
— Patricia Leidl