MOULVIBAZAR, Bangladesh – When labour pains started for Anjana, 20, she had no idea her life was at stake. She was 36 weeks into her first pregnancy, and felt contractions for a full day before her family called for the midwife. By then, she was well into an obstructed labour – a potentially fatal condition for both her and the baby.
Yet Anjana was fortunate.
Midwives, antenatal care and a full complement of safe delivery services were available, part of a recently implemented UNFPA programme targeting workers at tea gardens in Moulvibazar District.
"I didn't understand, when I felt labour pain, whether there was a problem or not," Anjana later recounted.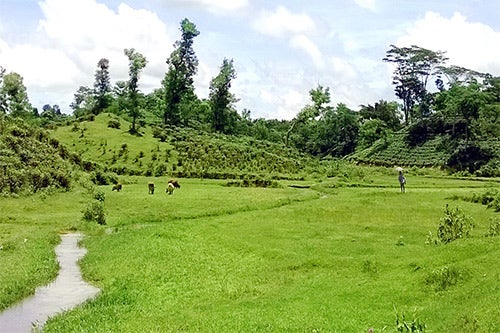 A tea garden in Moulvibazar, Bangladesh. Workers in the country's tea gardens are primarily women, and they are among the most impoverished and marginalized. © Sujitpauldu/Wikimedia Commons/CC BY-SA 4.0
The midwife saved her life by urgently sending her to the Kamalganj health complex, she said. "She arranged everything for me. When the doctor delivered the baby, they said that if I had delayed going to the hospital, my baby would have died."
Targeting those most at risk
The workers in Bangladesh's tea plantations – called tea gardens – are primarily women, and they are among the most impoverished and marginalized in the country. They also face some of the country's highest rates of death from causes related to pregnancy. According to national findings from 2014, tea gardens and surrounding areas accounted for nearly 40 per cent of the district's maternal deaths.
There are a variety of reasons for tea garden workers' increased risks. Health services are often difficult to access due to distance and terrain. And fears among tea garden workers – including anxieties about losing their jobs due to pregnancy and motherhood – compel many to keep their pregnancies secret and forgo antenatal care.
In February 2016, UNFPA, together with the Centre for Injury Prevention and Research (CIPRB), the Government of Bangladesh and tea garden authorities, initiated a midwife-led health programme in five pilot tea gardens. Five professionally trained midwives were recruited to meet the needs of women and girls.
"I am responsible for providing quality antenatal care, safe delivery services and post-natal care," said Sabana Begum, one of the midwives.
She and her colleagues provide care at the dispensaries operated by tea garden authorities, and also visit the homes of pregnant and post-partum garden workers. They refer complications to nearby rural hospitals, where UNFPA helps to train staff.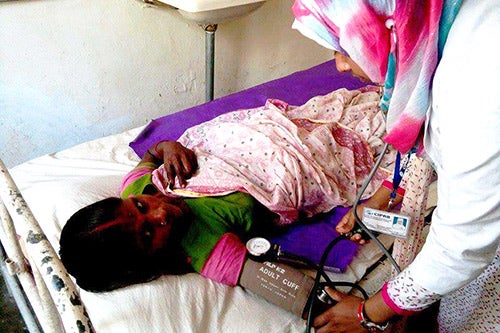 A midwife examines a woman in garden dispensary. © CIPRB/Animesh Biswas
Convincing women to seek care
Ms. Sabana added that a large part of her work is encouraging women to get care in the first place.
"Mothers in the tea gardens are still behind in terms of seeking out quality health care," she said, explaining that women often prefer to deliver at home.
She also dispels harmful myths, such as the belief that avoiding nutritious foods will make for an easier delivery. Some customs also dictate that newborn babies should be placed on the floor after delivery, or that new mothers should be confined to the home.
Although Ms. Sabana is not from the tea garden community, she is painfully aware of the dangers posed by such harmful practices.
"When I was younger, I lost my only younger brother," she said. "Delivery occurred at home by our relatives. They bathed him immediately after delivery."
Bathing newborns just after delivery is not recommended because it increases the risk of illness. Indeed, this is what happened. "My brother developed pneumonia," Ms. Sabana explained. He died at only 23 days old.
"On that day, I decided to do something," she said. That was why she became a midwife.
Maternal and neonatal deaths declining
Between September 2016 and April 2017, the midwives reached 450 women with antenatal care, and 279 newborns received post-natal care. The programme has been extended, and now reaches 10 tea gardens, covering a population of over 55,000.
And it is making a difference. Maternal deaths, neonatal deaths and stillbirths have already declined, according to provisional assessments.
Anjana and her baby are living proof. She knows she is fortunate that the midwife arrived when she did.
"It is only because of her that both my baby and I survived," she said.