BAITADI DISTRICT, Nepal – A girl's astrological birth chart can hold the keys to her future in this remote corner of Far Western Nepal. And in the right hands, this is a good thing.
When parents bring their daughter's 'cheena', a chart made according to the Hindu astrological calendar, to 66-year-old astrologer and priest Dev Dutta Bhatta, he pays close attention to the birth year. If the girl is underage, he advocates for her parents to wait until she is an adult before arranging her marriage.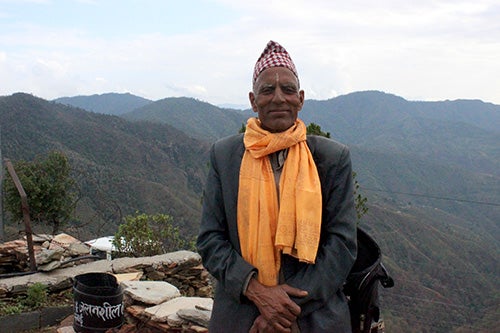 Astrologer and priest Dev Dutta Bhatta fights child marriage in Far Western Nepal. © UNFPA Nepal/Santosh Chhetri
"Any oversight on my part can destroy the lives of adolescent girls," he said.
A couple from Samaiji Village recently approached Mr. Bhatta, hoping to learn their 16-year-old daughter's lucky months and whether she should begin a fast.
Before addressing these concerns, he asked, "Are you thinking of marrying off your daughter?"
"Well, we might," they responded, "if a proposal comes from a well-established boy."
He asked to see the girl's cheena, then argued that they should wait until she turns 20 before considering marriage.
"Some parents, mostly those who have daughters, have plans to marry off their children at an early age," Mr. Bhatta told UNFPA, explaining the value of the cheena in ending child marriages.
"When they come to us, they lie about the age of their young girls. But the birth date mentioned in the cheena is always true, and alerts us to the possibility of child marriages taking place – and the need to stop this from happening."
I only used to tell villagers their fortunes. Now I also tell them it is illegal to marry off their children –Bhojraj Joshi, priest
One at a time
In Nepal, around a quarter of girls aged 15 to 19 are currently married or in union, according to a 2014 survey.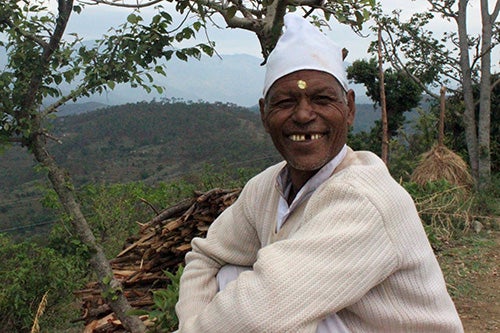 Shyam Bahadur Bhandari, 55, says stopping child marriage is his responsibility as a shaman. © UNFPA Nepal/Santosh Chhetri
Early marriage often means early pregnancy; Nepal's adolescent birth rate is one of the highest in South Asia. About 16 per cent of women, now aged 20 to 24, told surveyors they had given birth before they were 18.
The consequences of these practices are dire. Girls who are married before adulthood are more likely to drop out of school. They are less able to advocate for themselves, less likely to have access to essential health care and less likely to rise out of poverty. Girls who become pregnant before their bodies are ready are more likely to suffer serious, and sometimes deadly, complications.
Yet early marriage and pregnancy remains common in many parts of Nepal, including Far West, where there is limited awareness that the legal minimum age of marriage is 20.
Priests, astrologers, shamans and other spiritual leaders are working to turn the tide.
UNFPA and the government's Department of Women and Children are engaging these leaders on the issue through workshops and other collaborations in a number of districts, including Baitadi and neighbouring Dadeldhura. The faith leaders have developed action plans to eliminate child marriage in their communities.
Manamati Nepali, an 18-year-old youth leader in Hatairaj Village, welcomed the work of the priests and shamans. "Influential leaders are having an impact, one less child marriage at the time," she said.
We not only help people get rid of evil spirits and sickness, but also fight against social evils like child marriage. –Shyam Bahadur Bhandari, shaman
Purging "social evils"
So far, Mr. Bhatta has stopped six child marriages. Bhojraj Chataut, a 61-year-old priest in Dadeldhura, has stopped five.
Another priest, Tara Datta Panta, discovered from a prospective bride's cheena that she was not yet 18, and convinced her parents to cancel the wedding. And Padam Singh Mahara, a popular Hindu shaman, has convinced two couples to delay the marriages of their daughters.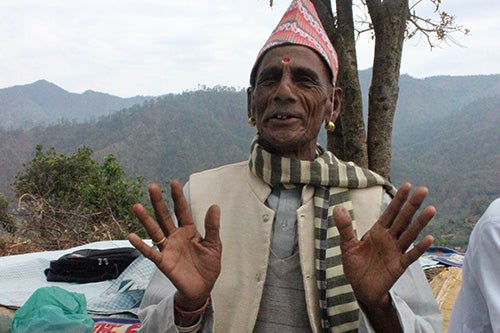 Religious beliefs are not in conflict with social progress, Padam Singh Mahara, 68, told UNFPA. © UNFPA Nepal/Santosh Chhetri
"Some people think we are quite conservative, with traditional beliefs that are against development. But this is not true," Mr. Mahara told UNFPA. "The work we are doing against child marriage is because we have a bigger role to play in the transformation of the society that we are part of."
The faith leaders are also educating their communities about the harms of child marriage, adolescent pregnancy and gender-based violence, and they are calling on parents to keep their daughters in school.
Mr. Bhatta and another priest, Bhojraj Joshi, organize awareness programmes and school orientation sessions in their villages.
"I've already organized six and I am gearing up for more," said Mr. Joshi. "Earlier, I only used to tell villagers their fortunes. Now I also tell them it is illegal to marry off their children before they reach 20."
Shyam Bahadur Bhandari, another shaman, has also stopped two child marriages.
"We not only help people get rid of evil spirits and sickness," he said, "but also fight against social evils like child marriage."
–Santosh Chhetri