ESCUINTLA, Guatemala – Marta Leiva, 7 months pregnant, leaned against two bags of donated clothes in her shelter in Guatemala's Escuintla Department. She lost everything when her house was destroyed during the eruption of the Volcan de Fuego, or "Volcano of Fire," last month.
She fled with her two young daughters, husband and sister as hot ash and debris flowed into their village, El Rodeo. Her mother-in-law and brother-in-law did not make it.
Today, the family's only possessions are a mattress and the two bags of clothes.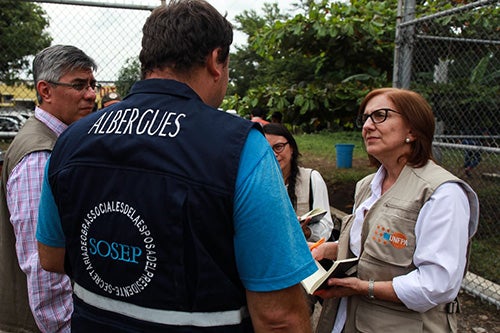 Some 1.7 million people have been affected by the disaster, according to the most recent United Nations reports. More than 100 people were killed, and nearly 200 are missing. Some 3,600 people are now living in shelters created by the Guatemalan government. 
Psychosocial care in shelters
Ms. Leiva and her family are staying in the José Martí Federation school, the largest shelter opened in response to the eruption. UNFPA is providing psychosocial care and other services there. 
"These people are in a really difficult situation, not only as a result of everything they survived with the volcano eruption and the deaths of loved ones, but also because some of them won't be able to return to their homes," said Verónica Simán, UNFPA's representative in Guatemala. 
A psychosocial care team is helping shelter residents deal with the trauma of the disaster and the stresses of displacement. Residents are also encouraged to provide feedback about the assistance they have received, and to participate in shelter- and community-support networks. 
Heightened risks for women and girls
Displaced women and girls are particularly vulnerable. Gender-based violence can escalate during crises, as protection systems break down and tensions mount.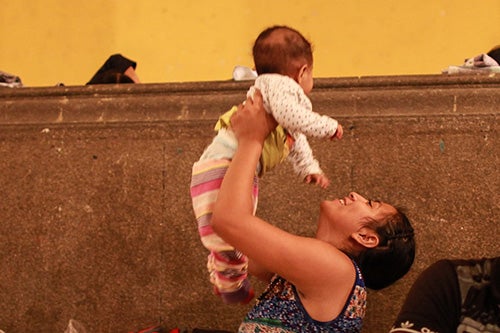 Several cases of violence against women have been reported in the shelters. One involved the attempted rape of an 11-year-old girl. Aid workers have also seen signs of domestic violence.
"People deal with pain and mourning differently. In a society like ours, where machismo is so deeply rooted, women are taught to react by crying, and men are taught to react by screaming," said Yadira Monterroso, psychologist from Equipo de Estudios Comunitarios y Acción Psicosocial (ECAP).
"One woman who received psychosocial support from us after a violence-related incident told me, 'I don't know what to do, because I cannot help crying all the time, and that makes my husband angry'." 
Improving security, response
UNFPA is working ECAP to prevent and address gender-based violence. They are educating shelter staff and community leaders about the risks to women, and they are raising awareness among displaced people about the need to end violence, how to recognize it and where to find help. 
UNFPA and ECAP are also working with shelters to improve security, and to establish response mechanisms. 
Some protection measures were already in place. Before the eruption, UNFPA had worked with national authorities to implement guidelines on addressing gender-based violence in humanitarian crises.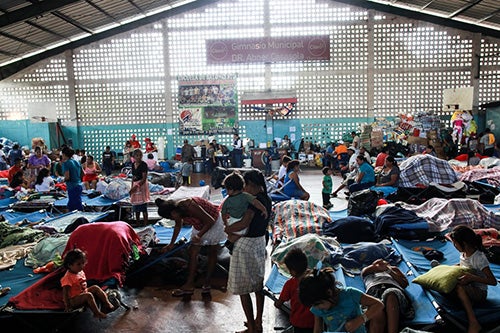 "We have been working with CONRED – the body in charge of disaster prevention in Guatemala – to spread information on this issue at shelters," said Dr. Simán. "We have also been training health care providers."
Still, traditional attitudes run deep.
Women and girls are often blamed when they are the targets of violence. And while involving women in shelter operations can help make services more gender-sensitive, men sometimes intervene.
"When women are given the responsibility of running a specific area of the shelter, they still go to their husbands for direction, like they had been the ones appointed to do that job," said Ms. Monterroso.
Deploying mobile clinics
UNFPA is also working with the health ministry to deploy mobile clinics to the shelters. These mobile units share information on sexual and reproductive health, including family planning, and they are providing antenatal services to pregnant women. 
These services have put Ms. Leiva at ease.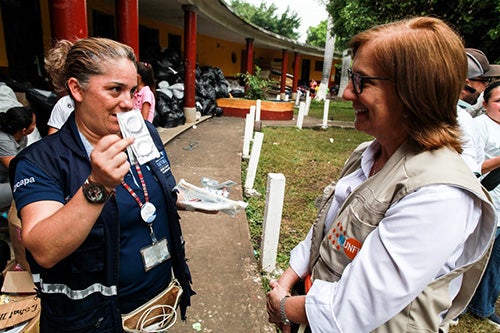 She says she is not worried about the pregnancy because mobile clinic staff are providing frequent care. 
She told UNFPA that she hopes her family will be transferred to a more private location before the baby arrives.
Eventually, her husband will be able to return to work as a taxi driver, she said, and maybe in a few years, they can build a new house in a safe location. 
Ms. Leiva laughed as one of her daughters tickled her belly. "In the midst of all of this, at least we have each other," she said.