LAMBAYEQUE, Peru – "When the disaster struck, I was in an advanced stage of pregnancy, and all I did was try to protect my life and my children's lives," said Lily, 40, describing how her family fled flooding in the Íllimo district of Lambayeque on 14 March.
Yet even now, months after the disaster, the needs remain significant among those affected.
Dozens of families remain displaced, living in shelters. And many women continue to live in conditions of high vulnerability and scarcity, as seasonal rains once more descend on the community.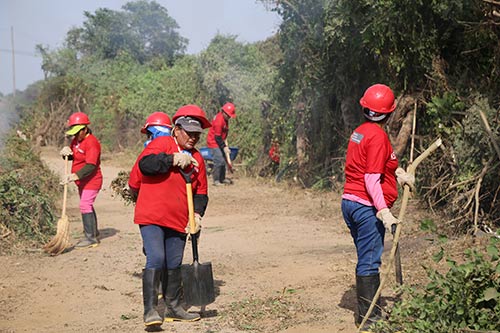 Lily and other women participate in volunteer work organized by local authorities to clean debris from the floods. © UNFPA Peru/Angela Valverde
A leader emerges
When La Leche River began to flood the city last March, Lily quickly took charge.
"My family and several of our neighbours ran towards the Central Park, because it's on an elevated site. I later went to my municipality to ask for help," she said. "I got people organized and told them 'Don't go anywhere, because tents are coming!' And we stayed right there."
Lily and her family moved into a shelter known as the Main Park, one of four temporary shelters for the thousands of people in and around Illimo who were displaced.
Her youngest child was born five days after floods engulfed the city. But even then, Lily did not rest.
She was appointed coordinator of the Severely Affected Population Central Committee, a group of flood survivors. She helped perform an assessment of survivors' needs, and helped organize the distribution of aid and other services – including UNFPA-supported protection and reproductive health activities provided by the Lambayeque's Women Emergency Centre.
Under threat
Still, there remain significant needs.
As of August, over 150 people continued to live in shelters in Illimo, and more than 650 people were residing in shelters across the wider Lambayeque region.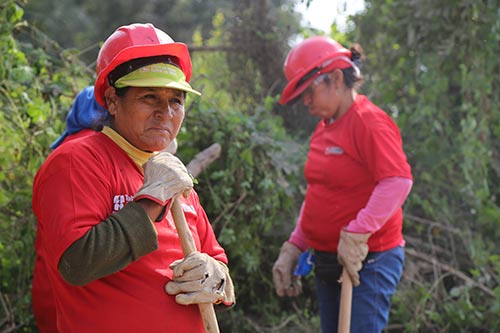 The women repair roads affected by the disaster. © UNFPA Peru/Angela Valverde
The prolonged crisis has left women vulnerable. Overcrowded housing, high levels of unemployment and stress have increased tensions in families, and lack of security has left women and children vulnerable to sexual abuse.
Not enough has been done to protect these vulnerable groups, said Alicia Plascencia Rubiños, who works with the Women's Emergency Centre in Lambayeque. "No attention was paid to the issue of violence or the risk of fondling of children," she said.
Flood survivors were also stigmatized and threatened in the aftermath of the crisis. Residents of downtown Íllimo did not want to see displaced families crowded around Central Park.
"The displaced people living in my shelter became the constant target of threats, and our tents were often vandalized," Lily said. "They insulted us. They didn't understand that the only reason we were there was because we didn't have a safe place to go."
Raising awareness
To address these issues, UNFPA worked with the Ministry of Women and Vulnerable Populations to deploy mobile units of lawyers, social workers and psychologists.
These groups raised awareness of the needs of the population, advocated for them with regional and local authorities, and also helped survivors receive support and assistance. They also offered counselling and support for survivors of violence.
"Since the Emergency Women's Centre mobile unit programme arrived in Íllimo, we stopped receiving threats, and people stopped insulting us," Lily said.
UNFPA also organized a series of talks in Lambayeque, promoting the need for protections against gender-based violence and for access to sexual and reproductive health care.
"These talks have been really useful," said Lily. "In our shelters, there are families with teenage girls who live under the same tent with their father, mother, brothers and young girls. And they have learned how to take care of their body, how to protect themselves."
UNFPA distributed 1,700 hygiene kits, which contained soap, underwear, menstrual pads and other essential supplies. Some 1,700 protection kits were also distributed; these included a flashlight to help safely navigate at night and a whistle to alert others in an emergency.
"The whistle has been of great help," Lily noted.  "We have used it to ask for help when we're afraid of being followed or somebody tries to break into our tents."
Looking ahead
Today, the population at the Main Park shelter has been relocated to temporary housing in a new location, Jesus es Mi Camino, thanks to the efforts of Lily and other survivors' advocates.
Around 60 families are living in the new location, but no permanent solution has been found.
Still, Lily refuses to lose hope.
"The only thing not only I, but many people, can do is bite the bullet, give life a smile and show we won't stay where we are, and we will thrive," she said.
– Angela Valverde