KHARKIV, Ukraine – Tetiana* and her husband were abducted and savagely abused after conflict broke out in Donetsk, in eastern Ukraine. After months of torment, they and their nine children were driven from their home and forced to start over in a new city. Yet the violence seemed to follow them – and this time, it came from within their family.
Psychologist Svitlana Tevantseva met Tetiana, 38, in a settlement for displaced people in Kharkiv. Tetiana was initially reluctant to talk about her experiences, but slowly, she began to reveal her story.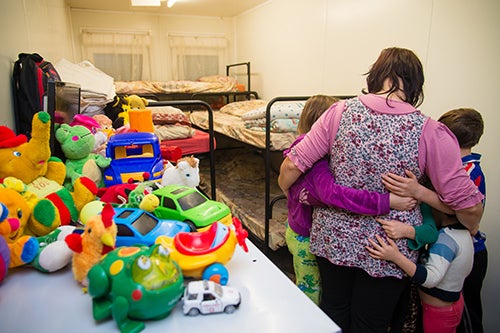 Tetiana embraces her children in their temporary home in Kharkiv. © UNFPA/Denys Panchenko
She and her husband were farmers from rural Donetsk, and their lives had always been peaceful. But after hostilities started in April 2014, many people in the community joined militant groups, and Tetiana's husband was pressured to join as well.
He refused, saying he just wanted to take care of his family and farm. Months later, he was kidnapped and tortured over a period of days.
Later, Tetiana was also abducted. She was brutally beaten by armed men, who knocked out her front teeth and slashed her face. They ordered her to leave town within four hours. If she did not, they would kill her and her children, they said.
Tetiana frantically called every hotline she could find, eventually lining up enough help to evacuate her family that day.
But their nightmare was not over.
Haunted
Tetiana's husband remained haunted by the horrors he had experienced. He felt like he was being watched, and told Tetiana that their new home was not safe.
Eventually, his paranoia turned into aggression. The couple decided to separate to protect their children, and Tetiana's husband moved in with his sister in another town.
That's when Tetiana met Ms. Tevantseva, who coordinates a UNFPA mobile team providing psychosocial support to people affected by Ukraine's conflict.
There are 26 such teams, each including a social worker, a psychologist and an outreach worker. They specialize in helping survivors of gender-based violence and connecting people to services in hard-to-reach areas. Over multiple visits, the teams build trust with survivors and learn exactly what kind of support is needed.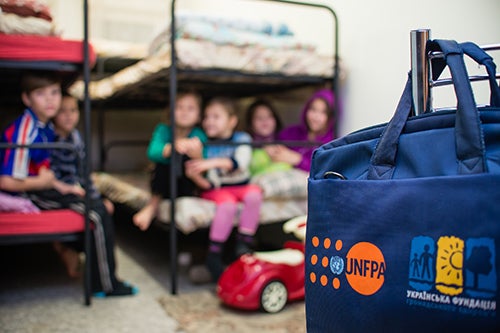 The mobile psychosocial team emphasized the importance of attending to the emotional welfare of the children. © UNFPA/Denys Panchenko
Tetiana initially contacted Ms. Tevantseva's team about finding new housing.
"That was how we learned about Tetiana," Ms. Tevantseva said. "It wasn't until we asked her further about her life that we learned about her husband's aggressive behaviour."
They recommended both Tetiana and her husband to receive professional help to cope with their experiences, and emphasized the importance of attending to the children's psychological and emotional needs as well.
A huge toll
The conflict in eastern Ukraine has taken an enormous toll, with 3.1 million people in need, according to an October report. As of September, nearly 1.7 million people were registered as internally displaced. Women, children and people with disabilities comprise a majority of the displaced.
Since November 2015, UNFPA's mobile teams have been working in five of the most affected areas – Dnipropetrovsk, Donetsk, Luhansk, Kharkiv and Zaporizhzhia. Operating with support from the Ukrainian Foundation for Public Health and HealthRight International in Ukraine, these efforts have reached more than 10,000 survivors of gender-based violence in 307 locations.
Ms. Tevantseva's team connected Tetiana with the Kharkiv Association of Large Families (AMMA). She received help finding a permanent home in the Kharkiv region, where her family can farm and keep livestock.
It has been a huge boost to their morale, Ms. Tevantseva said. They have been welcomed by the community, and Tetiana no longer feels alone. She has even started to help other families in similar situations.
– Olha Vesnianka
* Name changed to protect privacy