NEW YORK -- Tonight from 10:00 to 11:00 pm Eastern time, ABC television network will broadcast a special global health programme on its "20/20" series with Diane Sawyer called "Making Life: A Risky Proposition," focused on maternal health around the world.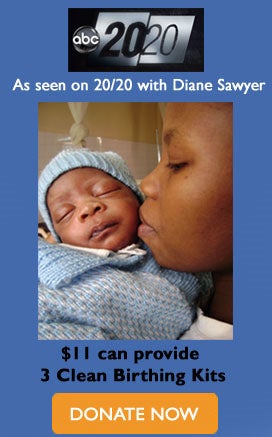 UNFPA has been helping shape the stories and providing a range of information on maternal health from a range of countries -- Afghanistan to Mexico -- for the ABC programme.
The documentary reports on the challenges faced by mothers in developing countries, as well as low-cost, low-tech solutions that can help save millions of lives.
For as little as $11 you can help UNFPA, the United Nations Population Fund, get 3 emergency clean birthing kits, including a bar of soap, clear plastic sheet, razor blade, an umbilical cord tie, cloth and latex gloves into the hands of pregnant mothers and health care workers as they safely deliver babies in crisis situations.To donate, go to Americans for UNFPA or click here
To get more information on the birthing kits, go to Global Giving Clean Birthing Kit