DAKAR, Senegal – Asta Gaye was bleeding too much, said the traditional birth attendant in Diomande Walo, a Fulani village in northern Senegal. It was still dark on the morning of 30 September 2013, and Ms. Gaye had been in labour since 3 a.m. She would have to be rushed to a hospital, about 20 km away, for emergency care.
Only days earlier, such a pronouncement would have required that Ms. Gaye and her husband, Dramane Bocar Mbodj, walk 5 km to the main road, then try to flag down a public transport vehicle. If such a vehicle failed to arrive, they would have had to search for passing horse-drawn carts to ask for a ride.
Fortunately, Diomande Walo and the surrounding villages had just received a horse and cart from UNFPA, part of a programme meant to reduce barriers to maternal health care, especially during emergencies.
With the cart, Mr. Mbodj was able to bring Ms. Gaye to a central transit point. From there, they were taken to the hospital in Ndioum.
Early on 1 October, Ms. Gaye delivered a baby boy by Caesarean section.
"I call it the horse-cart of hope – the one that has saved lives, including that of my wife and my baby," Mr. Mbodj said.
Easier access to care
The UNFPA-provided horse and cart, which villagers estimate to be worth CFA 600,000 ($1,200), was one of several maternal health initiatives undertaken by UNFPA and its implementing partner, the Women's Health, Education and Prevention Strategies Alliance (WHEPSA).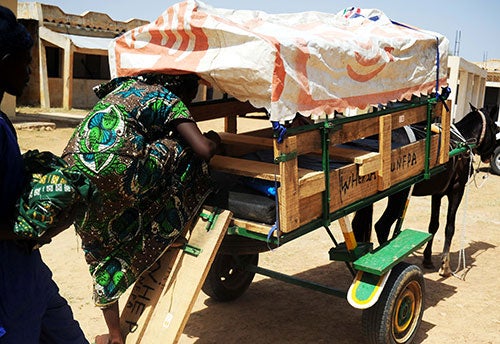 Asta Gaye and her husband, Dramane Bocar Mbodj, return home with their newborn son. Photo credit: APANEWS
Families in the area often delay bringing pregnant women to health facilities. When they do choose to seek care, they frequently encounter difficulties obtaining transportation, and then find further delays when they reach health centres.
These issues contribute to Senegal's high maternal death rate. In 2010, some 370 women died from complications in pregnancy or childbirth per 100,000 live births, according the most recent State of the World Population report.
To address these issues, UNFPA and WHEPSA, with financial support from Luxembourg Aid, are working with local health workers – who are in some cases not doctors or nurses but community focal points.
These include a 'Bajenu Gokh', or 'village godmother', and mothers groups ('Comité de Mamans'), all of them trained by the local health district. The mothers groups and Bajenu Gokhs encourage women of child-bearing age to adopt healthy, positive behaviours during pregnancy and delivery, after childbirth, and in the period between pregnancies.
Additionally, traditional birth attendants are trained to provide services in local facilities known as 'health huts', where they work under the supervision of chief nurses. For their part, the chief nurses use Channel, a software programme provided by UNFPA, to manage the stocking and supply of reproductive health products.
A thing of the past
"There used to a great deal of childbirths at home, and deliveries on the way to health facilities, given the shortage of appropriate means of transportation," said a chief nurse in the northern community of Dodel. "But with the WHEPSA, which runs its activities with UNFPA support, we have been able to improve the reproductive health indicators."
"We wish that all childbirths could take place at the maternity wards, overseen by a midwife or a chief nurse. But given the realities on the ground, aggravated by the remoteness of some villages, the poor state of roads – especially during the rainy season – we have no other choice but to train traditional birth attendants to run the health huts to assist with uncomplicated childbirths," said Mamadou Fall, another chief nurse.
"All childbirths now happen at the health huts or at Dodel's health outpost, where there are well-trained traditional birth attendants, community health agents and Bajenu Gokhs," Mr. Fall noted.
Today, he added, "home deliveries are a thing of the past."
With reporting from APANEWS.