TEMPORARY APPOINTMENT: Youth Mixed Migration Project Regional Coordinator, WCARO, Dakar, Senegal, P-3
Contract Type: Temporary Appointment
Closing date: 26 November 2019 - 5:00pm(New York time)
Duty station: Dakar, Senegal
Job ID: 26781
---
The Position:
The Regional Coordinator will substantively contribute to the implementation, coordination and monitoring of the Youth Mixed Migration project activities across the participating countries. S/he will act as the project focal point at regional level, ensuring quality and timely implementation of project activities, outreach, and liaison with Country Offices, regional stakeholders and government partners.
S/he will report directly to the head of the Evidence Knowledge Policy unit (EKPU) at the West & Central Africa Regional Office, under the overall guidance of the Deputy Regional Director.
How you can make a difference:
UNFPA is the lead UN agency for delivering a world where every pregnancy is wanted, every childbirth is safe and every young person's potential is fulfilled.  UNFPA's new strategic plan (2018-2021), focuses on three transformative results: to end preventable maternal deaths; end unmet need for family planning; and end gender-based violence and harmful practices.
In a world where fundamental human rights are at risk, we need principled and ethical staff, who embody these international norms and standards, and who will defend them courageously and with full conviction.
UNFPA is seeking candidates that transform, inspire and deliver high impact and sustained results; we need staff who are transparent, exceptional in how they manage the resources entrusted to them and who commit to deliver excellence in programme results.
Job Purpose:
Global attention to migration and refugees has escalated in the past 4 years, in parallel with the rise in persons affected. In all fora, there is widespread concern over the challenge of securing data on persons affected and their needs. There is a specific need for data in urban transit hubs, where mixed migration is the norm, as traditional sources of descriptive information do not capture the demographic profile of migrants, their vulnerabilities, aspirations and service requirements.
UNFPA is partnering with the Danish Refugee Council's Mixed Migration Monitoring Mechanism Initiative (4Mi) to extend a project on the service needs of young migrants in three urban transit hubs in West Africa, including Niamey (Niger), Bamako (Mali) and Ouagadougou (Burkina Faso). Building on lessons learned from an initial project undertaken in 2017-2018 in Nairobi, Tunis, Cairo, and Beirut (Phase 1), the project expands rapid urban appraisals into West Africa (Phase 2), focusing on the needs of young migrants in documentation, health access, exposure to violence, basis for migration and immediate needs, including Sexual and Reproductive Health.
4MI will be engaged in data collection in the three cities in consultation with the respective UNFPA Country Offices (COs).
The Regional Coordinator will play a pivotal role in coordinating project activities across the three participating countries, and ensuring the achievement of expected project outcomes through an optimal project implementation, effective use of resources, quality tracking and communication of results, and adequate coordination.
Qualificaitons and Experience
Education: 
Advanced university degree in Demography, Population studies, Statistics, Economics or other related fields. 
Knowledge and Experience:
At least five (5) years of experience in the substantive area;
Proven research experience in data collection in the field of population studies including (DHS, and other social survey, etc.);
Proven work experience in project management and monitoring;  
Strong communications skills;
Familiarity with UNFPA mandate areas of population and development;
Experience working on youth Migration, peace and security thematic areas would be an asset;
Languages:
Fluency in French is required, with working knowledge of English.
We are no longer accepting applications for this position.
Senegal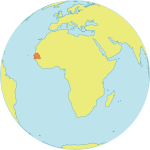 Population : 16.7 mil
Maternal Mortality Ratio
315
Contraceptives prevalence rate
22
Population aged 10-24
32.1%
Youth secondary school enrollment
Boys 36%
Girls 39%