TEMPORARY APPOINTMENT- Technical Specialist, Gender, Cox's Bazar, Bangladesh, P-3
Contract Type: Temporary Appointment
Closing date: 29 November 2019 - 5:00pm(New York time)
Duty station: Cox's Bazar
Job ID: 26960
---
TEMPORARY APPOINTMENT 
Duration: 364 days
The Position:
The Technical Specialist-Gender will be responsible for overall management of a development project entitled "Achieving Universal Access to SRHR in Host Communities of Cox's Bazar". This post will manage the project focusing on GBV prevention and response, including case management and psychosocial support. The incumbent will work closely with SRHRiE, GBViE and GBV Sub Sector Coordinator in the Cox's Bazar Sub Office as well as liaise with the Cox's Bazar Head of Sub Office for effective programme coordination between humanitarian and development efforts. 
The incumbent will directly report to the Chief of Gender under the overall guidance of the Deputy Representative of UNFPA Bangladesh. This is a supervisory role.
How you can make a difference:
UNFPA is the lead UN agency for delivering a world where every pregnancy is wanted, every childbirth is safe and every young person's potential is fulfilled.  UNFPA's new strategic plan (2018-2021), focuses on three transformative results: to end preventable maternal deaths; end unmet need for family planning; and end gender-based violence and harmful practices. 
In a world where fundamental human rights are at risk, we need principled and ethical staff, who embody these international norms and standards, and who will defend them courageously and with full conviction.
UNFPA is seeking a candidate who can transform, inspire and deliver high impact and sustained results; we need staff who is transparent, exceptional in how s/he manages the resources entrusted to her/him and who commits to deliver excellence in programme results.
Job Purpose:
The purpose of the job is to ensure effective and holistic delivery of UNFPA Programme in the host communities of Cox's Bazar district. 
You will assist in monitoring results achieved during implementation, and ensuring a systematic programme management for GBV related activities of UNFPA in Cox's Bazar. You will also work with implementing partners in the field to ensure appropriate project implementation in relation to UNFPA's GBV indicators and reporting measures. 
Requirements:
Qualifications and Experience
Education: 
Master degree in in Social sciences/Gender studies/development studies/ Law or related subject 
Knowledge and Experience: 
• 5 years of professional experience in the field of development and population activities, with experience in programme/project management, preferably related to Gender/GBV case management
• Proven relevant experience in developing training curriculums, modules and materials on GBV case management/ GBV prevention/ life skill/women empowerment.
• Preferred relevant experience on SASA tools or related other GBV primary prevention tools 
• Working experience at the South Asia region is preferred
• Good understanding of international GBV best practices and guidelines 
Languages: 
Fluency in English is required. Working knowledge of another UN language an asset. 
We are no longer accepting applications for this position.
Bangladesh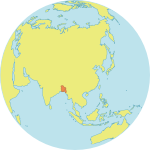 Population : 164.7 mil
Maternal Mortality Ratio
173
Contraceptives prevalence rate
54
Population aged 10-24
27.9%
Youth secondary school enrollment
Boys 61%
Girls 72%