SERVICE CONTRACT: GBViE District Officer-Community Engagement, UNFPA Sub Office, Cox Bazar, Bangladesh, SB4
Contract Type: Service Contract
Closing date: 4 June 2019 - 5:00pm(Dhaka time)
Duty station: Cox's Bazar, Bangladesh
Job ID: 22603
---
This position is open for Bangladeshi Nationals only
The position:
Gender Based Violence in Emergency (GBViE) District Officer - Community Engagement shall be based in Cox's Bazar, Bangladesh. The incumbents reports to the GBViE Programme Specialist in Cox's Bazar. 
Bangladesh is ranked sixth in the World Risk Index (2015), due to the country's extreme exposure and high vulnerability to natural hazards. Within humanitarian settings, and particularly in Bangladesh, women and girls are disproportionately affected. According to the Violence Against Women (VAW) Survey conducted in 2015 by Bangladesh Bureau of Statistics, Bangladesh has a very high prevalence of violence against women. Findings from this survey report that 72.6% of married women experienced some form of violence by their husbands, 49.6% experienced physical violence and 27% experienced sexual violence.  This data shows the magnitude of risks that women and girls are facing against Gender-Based Violence (GBV) in a normal setting.  Humanitarian settings make their vulnerability to GBV even greater.
On 25 August, 2017 coordinated attacks by insurgents on multiple police posts and an army base in Rakhine State, Myanmar sparked retaliations and continuing violence towards the minority Rohingya Muslim population. This contentious situation stems from decades of discriminatory actions against Rohingyas living in Rakhine. The recent extreme violence has caused thousands, predominantly Rohingyas, to flee and seek safety in Cox's Bazar District in Bangladesh which shares a border with Myanmar. According to the Inter Sector Coordination Group (ISCG) Situation Report 21 June 2018, there were an estimated 919,000 Rohingya refugees accumulative arrivals into Bangladesh since 25 August 2017. Some estimates suggest 80% are women and girls. This new influx has exacerbated a protracted refugee situation that began in the 1970s.
UNFPA maintains a dedicated presence in Cox's Bazar district to support implementing partners (IP) for managing emergency projects. Considering more needs UNFPA is expanding its emergency program on different thematic areas like community engagement for GBV prevention and response. This program will focus on men and boys engagement in addressing GBV programming. Therefore, One  GBViE District Officer- Community Engagement will recruited to develop capacity of implementing partners, support and coordinate GBV program and monitor the quality of GBViE program which will be implemented both in Rohingya and host community.
Requirements:
Qualifications and Experience
Education: 
Master degree in Sociology, Anthropology, Social Work, Women's Studies, Humanitarian Affairs or any other related Social Science field.
Knowledge and Experience:
3 years' minimum work experience in development field specially in gender/ human rights/Community engagement/ women empowerment/protection issues
Good working knowledge of language spoken by Rohingya refugee population will required.
Clear understanding of gender, human rights, issues surrounding violence against women and girls, community mobilization
Demonstrated understanding of and ability to implement community empowerment program for GBV prevention and response
Experience facilitating trainings and workshops and mentoring others
Positive and professional attitude, including ability to lead and work well in a team setting
Strong ability to organize work, meet deadlines, maintain composure, prioritize work under pressure, coordinate multiple tasks and maintain attention to detail
Personal qualities: Works well in and promotes teamwork, comfortable in a multi-cultural environment, flexible and able to handle pressure well.
Ability to maintain confidentiality and respect in Women Friendly Spaces and at all times is essential.
Excellent communication, listening and observation skills, including ability to create trust, support and respect.
Demonstrated commitment to women's empowerment and protection through men and boys' engagement, engaging religious leaders or other relevant experience is an added advantage.
Computer literate, including Microsoft Word and Excel and Power point
Fluency (written and spoken) in English is required and knowledge of local language desirable
Excellent interpersonal, negotiating and diplomatic skills, including experience working with colleagues of multicultural background
Experience in programming will be an asset.
We are no longer accepting applications for this position.
Bangladesh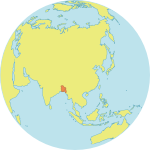 Population : 164.7 mil
Maternal Mortality Ratio
173
Contraceptives prevalence rate
54
Population aged 10-24
27.9%
Youth secondary school enrollment
Boys 61%
Girls 72%