Resource Mobilization and Partnerships Specialist, Division of Communications and Strategic Partnerships, New York, P-4
Contract Type: Fixed Term Appointment
Closing date: 1 May 2019 - 5:00pm(New York time)
Duty station: New York
Job ID: 22816
---
The Position:
The Resource Mobilization and Partnerships Specialist post is located in the Resource Mobilization Branch of the Division of Communications and Strategic Partnerships. He/she provides fundraising support for humanitarian projects aligned with UNFPA strategies. The incumbent will work under the supervision of the Chief of the Resource Mobilization Branch in close collaboration with the Director of Humanitarian and the Trust Fund/ Finance Manager in the Humanitarian Office. The Resource Mobilization and Partnerships Specialist works within an integrated, coordinated, and systems strengthening approach which is fundamental to the Humanitarian Division and UNFPA's overall strategy.
How Can You Make a Difference:
UNFPA is the lead UN agency for delivering a world where every pregnancy is wanted, every childbirth is safe and every young's person potential is fulfilled. UNFPA's new strategic plan 2018-2021, focuses on three transformative results: to end preventable maternal death; to end unmet need for family planning; end gender-based violence and harmful practices.
In a world where fundamental human rights are at risk, we need principled and ethical staff, who embody these international norms and standards, and who will defend them courageously and with full conviction. UNFPA is seeking candidates that transform, inspire and deliver high impact and sustained results. We need staff who are transparent and exceptional in how they manage the resources entrusted to them and who commit to deliver excellence in programme results.
Job Purpose:
The overall purpose of the Humanitarian Office is to facilitate the delivery of the UNFPA mandate by supporting humanitarian preparedness, response, and recovery actions in increasingly complex humanitarian situations, within globally agreed frameworks (2030 Agenda, Grand Bargain Commitments, Sendai Framework  etc.). The Humanitarian Office leads in leveraging and increasing effectiveness, efficiency and capacity of UNFPA staff and  partners to scale up UNFPA's role as a key global humanitarian actor. Through the Inter-Agency Standing Committee for Coordination of Humanitarian Assistance (IASC) and other associated entities, the Humanitarian Office acts as a point of convergence on humanitarian activities, including policy, coordination, programming, advocacy, field capacity developmentHumanitarian Office, will lead and advise on the organizational humanitarian resource mobilization efforts, build strategic partnerships, and collaborate with a diverse team of staff members; ultimately supporting in making a positive difference in the lives of billions of people.
Requirements:
Qualifications and Experience
Education
Advanced degree in Social Sciences, Political Science, Business Administration, Economics, or International Relations.
Knowledge and Experience: 
At least 7 years of experience at national and international level, of which, 3-5 years must be related to Resource Mobilization and Public Relations, and in a managerial/ leadership position leading team, as well as dealing with development assistance and donor relations; in-depth experience with humanitarian response is desirable. 
Good track record in fund-raising and management of funding instruments;
Familiarity with UNFPA programmes and policies, knowledge of international development financing, and international politics;
Excellent negotiation skills, advocacy and public speaking.
Language:
Excellent English-language writing and communications skills. 
Knowledge and fluency in any other UN official language is an asset;
We are no longer accepting applications for this position.
United States of America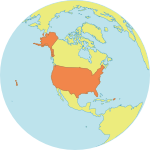 Population : 329.1 mil
Maternal Mortality Ratio
14
Contraceptives prevalence rate
74
Population aged 10-24
20%
Youth secondary school enrollment
Boys 92%
Girls 92%