RE-ADVERTISEMENT- TEMPORARY APPOINTMENT (FAST TRACK)- Technical Specialist Adolescents and Youth (A&Y): Humanitarian-Development Nexus Response, UNFPA Sub-Office,Cox's Bazar, Bangladesh, P-4
Contract Type: Temporary Appointment
Closing date: 29 May 2020 - 5:00pm(New York time)
Duty station: Cox's Bazar
Job ID: 30755
---
RE-ADVERTISEMENT (TEMPORARY APPOINTMENT- FAST TRACK)
NOTE: " Candidates who have previously submitted applications need not re-apply"
Duration: 364 days 
Closing date: 29 May 2020 (5 pm New York time)
Duty Station: Cox's Bazar, Bangladesh
The Position:
The Technical Specialist A&Y – Humanitarian Response (TS-A&Y) is based in UNFPA Sub Office, Cox's Bazar. The incumbent will work under the overall supervision of the Head of Sub-Office (HoSO) Cox's Bazar on day-to-day administrative matters and the direct supervision of the Deputy Representative of UNFPA Bangladesh on all programmatic, management, financial and technical matters.
How you can Make a Difference:
UNFPA is the lead UN agency for delivering a world where every pregnancy is wanted, every childbirth is safe and every young person's potential is fulfilled.  UNFPA's new strategic plan (2018-2021), focuses on three transformative results: to end preventable maternal deaths; end unmet need for family planning; and end gender-based violence and harmful practices. 
In a world where fundamental human rights are at risk, we need principled and ethical staff, who embody these international norms and standards, and who will defend them courageously and with full conviction.
UNFPA is seeking candidates that transform, inspire and deliver high impact and sustained results; we need staff who are transparent, exceptional in how they manage the resources entrusted to them and who commit to deliver excellence in programme results.
Job Purpose:
In the months following August of 2017 an influx of more than 700,000 refugees entered Bangladesh bringing an already protracted refugee situation in to crises. Currently, of the total refugee population of close to one million in Cox's Bazar, more than half of these Rohingya refugees are women and girls.  According to UNHCR (2018) there are approximately 120,000 adolescents, defined as those between the ages of 12-19 years.  If the UN definition of adolescents (10-19 years) is used, this population size will be even higher.    Adolescent girls, approximately half of this population, are especially vulnerable and at increased risk of sexual violence and thus need interventions, which include clinical management of rape, case management, psychosocial support and life skills.  Adolescent boys, while not currently not targeted as much through focused interventions are also vulnerable and thus need interventions which are particularly relevant to their contextual reality.  
UNFPA has established a Sub-Office in Cox's Bazar, housed with UNFPA personnel and experts on emergency coordination, sexual and reproductive health and rights (SRHR), gender-based violence (GBV) and operations.  UNFPA will be expanding this group of professional staff by including A&Y personnel and staff to support the Sub-Office.
As the Technical Specialist A&Y Humanitarian Response, s/he will be responsible for managing all A&Y related projects in Cox's Bazar.  In close collaboration with the Deputy Representative of UNFPA, the A&Y Programme Unit of the Country Office, the Sub-Office SRHR and Gender Based Violence in Emergencies (GBViE) units and the M&E unit, the Technical Specialist A&Y Humanitarian Response will have overall responsibility for the implementation, management, coordination and monitoring of A&Y humanitarian, humanitarian-development nexus projects in Cox's Bazar.  In addition, under the guidance of the UNFPA Cox's Bazar Sub-Office management, the Technical Specialist A&Y Humanitarian Response will work closely with government authorities, humanitarian agencies, civil society and local counterparts to promote collaborative information exchange for driving more effective humanitarian assistance to Rohingya Refugees and immediate host communities.
Requirements:
Qualifications and Experience
Education
 Advanced degree (Master's or above) in development studies, gender studies, anthropology, sociology, and/or other related social science field.
Knowledge and Experience
• At least 7 years of relevant professional experience, preferably in programme/project management in the public sector.
• Prior training and experience in adolescent and youth development and participation, sexual reproductive health and rights, and gender and their application in humanitarian settings is a plus.
• Experience in humanitarian/development/peace-building programming and operations, preferably with the UN.
• Demonstrated experience in liaising with high level government and non-government officials, at district level, including communities.
• Technical expertise on A&Y issues, including in capacity development, knowledge management and communication in relation.
• Expert knowledge and understanding of the socio-cultural, health and economic underpinnings of A&Y issues especially in relation to humanitarian contexts.
• A strong understanding of human rights-based approach to humanitarian work, humanitarian-development nexus and results-based management.
• Genuine interest, commitment and ability to work closely with young people and motivate them to support UNFPA programming.
• Exceptional interpersonal, communication, networking, and negotiation skills.
• Ability to self-manage, emotional intelligence, empathy, team spirit, conflict management as well as negotiating skills. 
• Ability to express ideas and concepts clearly and concisely, both in written and oral forms.
• Excellent English writing skills, communications skills, and inter-personal skills.
• Ability to deal with culturally and religiously sensitive and complex issues skillfully and at different levels.
• Knowledge and experience in monitoring programmes.
• Proficiency in Microsoft Office applications is required.
Languages
• Fluency in oral and written English is essential
• Knowledge of Bangla is an advantage
We are no longer accepting applications for this position.
Bangladesh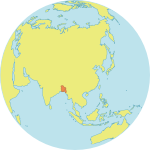 Population : 164.7 mil
Maternal Mortality Ratio
173
Contraceptives prevalence rate
54
Population aged 10-24
27.9%
Youth secondary school enrollment
Boys 61%
Girls 72%