RE-ADVERTISEMENT-NATIONAL POST: Programme Analyst (Domestic Violence/Gender-based Violence), Ha Noi, Viet Nam Country Office, NOB
Contract Type: Fixed Term Appointment
Closing date: 21 January 2019 - 5:00am(New York time)
Duty station: Ha Noi, Viet Nam
Job ID: 19967
---
PLEASE NOTE THAT THIS VACANCY IS OPEN ONLY TO NATIONALS OF VIET NAM
Closing date: 21 January 2019 (5 pm Ha Noi time) (5 am New York time)
The position:
The Programme Analyst on Domestic Violence/Gender-based Violence (DV/GBV) is located in the UNFPA Country Office in Ha Noi, Viet Nam.  He/She works under the overall supervision of and reports directly to the Programme Specialist on Gender and Human Rights.
Job Purpose
Responsible for and substantively contribute to the effective programme support management of the One Strategic Plan/CPD output on national response to DV/GBV.
Analyze and assess relevant political, social and economic trends and provides substantive inputs to programme formulation and evaluation, joint programming initiatives and national legal/development frameworks on issues related to DV/GBV.
Guide and facilitate the delivery of high quality and measurable UNFPA programmes by monitoring results achieved in the implementation of DV/GBV related interventions, in line with agreed upon One Strategic Plan/CPD output and indicators, while ensuring the established policies, rules and procedures of UNFPA and Government are complied to in all programme/project activities.
Assist in influencing counterparts from diverse backgrounds to jointly contribute to advance the ICPD Programme of Action.
Requirements:
Qualifications and Experience
Education:  Master's Degree in social sciences or related fields, with a strong disposition in advocacy, policy making, adult learning/training, behavior change communication, monitoring and evaluation.
Knowledge and Experience:
At least two (2) years professional experience in programme/project management in the public or private sector, with demonstrated expertise in the substantive area of work and programme experience.
Strong and proven analytical skills and proven ability to produce demonstrable results.
Good understanding of the Vietnamese Government gender-related policies, laws, policy making processes and be able to establish and maintain effective working relationships with the relevant Government partners.
Field experience would be desirable.
Broad experience in gender programming, understanding of human rights dimensions of gender, experience in culturally sensitive programming and in advising and supporting initiatives such eliminating DV/GBV will be an asset.
Languages: Fluency in both oral and written English and Vietnamese.
We are no longer accepting applications for this position.
Viet Nam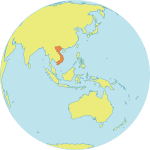 Population : 97.4 mil
Maternal Mortality Ratio
54
Contraceptives prevalence rate
79
Population aged 10-24
21%