Programme Specialist, Gender-Based Violence (GBV)
Contract Type: Fixed Term Appointment
Closing date: 16 October 2017 - 5:00pm(New York time)
Duty station: Myitkyina, Kachin State
Job ID: 12308
---
Position Summary:
The Programme Specialist, GBV based in Yangon, the Programme Specialist, GBV is located in the sub-office in Myitkyina, Kachin State, Myanmar with frequent travel to Lashio, Northern Shan State. The Programme Specialist, GBV also acts as the head of Kachin Sub-Office and manages the UNFPA Kachin Sub-Office as well as Lashio Project Office including the coordination and oversight of staff managing and implementing the UNFPA Programme.
Emergency preparedness and humanitarian assistance are integrated in UNFPA's work in Myanmar and are an important aspect in its proposed fourth country programme (2018-2022). UNFPA, in line with its global strategy, contributes to strengthening national capacity to provide sexual and reproductive health services, gender based violence prevention and response and the use of population and rights-based data in humanitarian settings.
The programme specialist will oversee UNFPA's humanitarian and multi-sectoral GBV prevention, response and coordination efforts in Kachin and northern Shan States as well as providing oversight for the implementation of UNFPA adolescent and sexual and reproductive health programming. This will include the provision of high quality technical, advocacy and coordination support in order to ensure compliance with international standards across the areas of UNFPA mandated areas of work. The programme specialist is directly responsible for the implementation and coordination of GBV programming with state government, NGOs and civil society partners; representation of UNFPA in humanitarian coordination mechanisms; management of the Kachin and northern Shan sub-offices as well as direct supervision of sub-office staff based in Myitkyina and Lashio.
Requirements:
Education:
• Advanced University degree in social work or other social sciences, public/community health, gender, legal advice as it relates to gender and GBV, and development or related field;
Knowledge and Experience:
• At least 5 years of increasingly responsible relevant professional experience, including experience in programme management, including large multi-sectoral projects, designing and appraising proposals and actively liaising with relevant and potential project partners;
• Knowledge of gender issues in development, particularly GBV, including relevant international human rights standards;
• Knowledge of reproductive health, HIV and protection issues in humanitarian and post-conflict recovery settings;
• Prior training in gender and GBV issues and their application in humanitarian, conflict, recovery and development settings;
• Experience in utilizing the following internationals tools: GBV Standard Operating Procedures; GBV Information Management System; IASC GBV Guidelines; IASC Gender Handbook; GBV Coordination Handbook; WHO Ethical and Safety Recommendations for Researching, Documenting and Monitoring Sexual Violence in Emergencies; the global Essential Services Package for Women and Girls;
• Operational and advocacy experience implementing UNSC resolutions on Women Peace and Security (1325, 1820, 1888, 1889 and 1960) and Youth, Peace and Security (2050);
• Prior experience in counselling and psychosocial support will be an asset
• Fluency in English is required. Working knowledge of another official UN language is desirable.
We are no longer accepting applications for this position.
Myanmar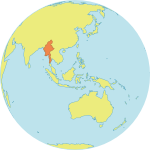 Population : 54.4 mil
Maternal Mortality Ratio
250
Contraceptives prevalence rate
33
Population aged 10-24
27%
Youth secondary school enrollment
Boys 61%
Girls 67%