Policy Adviser: Demographic Dividend, Dakar, Senegal, P-5
Contract Type: Fixed Term Appointment
Closing date: 12 February 2018 - 5:00pm(Dakar time)
Duty station: Dakar, Senegal
Job ID: 9632
---
Position Summary
The Regional Office for West and Central Africa (WCARO) covers 23 English, French, Spanish and Portuguese speaking countries. The countries in the zone are organized at the sub regional and regional levels into economic commissions. In its organizational set-up, the WCARO operates along broad thematic Units that are designed to stimulate and strengthen inter and intra-Unit coordination, coherence and synergy, facilitating timely and quality management and delivery of holistic population and development programme activities.
The position of Policy Adviser will function out of the WCARO office in Dakar (Senegal) within assigned Evidence, Knowledge, Data and Policy Unit. In general, the position is expected to focus on engaging the political and technical arms of intergovernmental sub regional and regional organizations as well as sub regional and regional academic and research institutions, relevant NGOs, professional associations and international development agencies to get population and development issues of the ICPD agenda and SDG issues into their policy focus, decisions and programmes, creating visibility for UNFPA. The functions of the position on these issues will also extend to country programmes, in theAdviso context of the enhanced but supportive role that WCARO is expected to assume. 
Qualifications and Experience 
Education: 
Post-graduate University Degree or equivalent (preferably Ph. D.) in demography, statistics, population studies, economics, or other field directly related to the substantive area identified in the title of the post
Knowledge and Experience:
10 years of increasingly responsible professional experience in the substantive area, of which seven years at the international level;
Population Research, Census DHS and civil registration experience is essential;
Experience of linkages between population and poverty, an asset
Experience in population related policy development, an asset;
Understanding of Direct  Budget Support, an asset;
Experience of PRSPs and MTEF analysis, an asset;
Understanding of Human Rights dimensions of Population and Development, an asset;
Demonstrated expertise in the substantive area of work; and programme experience;;
Strong track record of technical leadership, and proven ability to produce demonstrable results;
Strong verbal and written communications skills in English and/or in the relevant language in the region;
Demonstrated ability to network within the academic and development community;
Familiarity with management and monitoring tools is desirable;
Familiarity with ICT/ERP is an asset;
Field experience is strongly desirable.
Languages:
Strong written and spoken skills in English and French.
We are no longer accepting applications for this position.
Senegal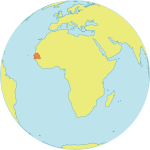 Population : 16.3 mil
Maternal Mortality Ratio
315
Contraceptives prevalence rate
26
Population aged 10-24
32%