NATIONAL POST, Project Officer, Humanitarian (Temporary Appointment), Kathmandu, Nepal CO, NOB
Contract Type: Temporary Appointment
Closing date: 14 August 2018 - 5:00pm(Kathmandu time)
Duty station: Kathmandu, Nepal
Job ID: 17672
---
PLEASE NOTE THAT THIS VACANCY IS ONLY FOR NATIONALS OF NEPAL.
Closing Date: 14 August 2018 (5 pm Kathmandu time)
Duration: 364 days (Temporary Appointment)
The Position:
The Humanitarian Project Officer, working under the overall direction and supervision of the Deputy Representative and in close collaboration with the National Humanitarian Officer, will be primarily responsible for the timely implementation of the DFAT funded project on emergency preparedness and to preposition emergency supplies. S/he will work closely with Ministry of Women, Children and Social Security, Ministry of Home Affairs, the Protection Cluster at federal level and relevant Ministries and Officers at sub-national level to effectively implement the project activities.
Job Purpose:
Nepal is vulnerable to various natural hazards and disasters and ranks 4th and 11th in terms of its relative vulnerability to climate change and earthquake, respectively. UNFPA preparedness efforts are primarily focused on strengthening coordination mechanisms, in particular under the Health Cluster and the Protection Cluster; capacity building of relevant service providers and key stakeholders; and prepositioning of relief items including Dignity Kits. UNFPA has prepositioned Reproductive Health (RH) Kits since 2013 in three locations in Kathmandu and intends to continue strengthening preparedness capacity of local partners. In this context, UNFPA with funding support from DFAT, will preposition Dignity Kits and Kishori (adolescent) Kits at national level in Kathmandu and at sub-national level in Provinces 2, 5 and 7. The Humanitarian Project Officer will be responsible for managing the DFAT funded project.
Requirements:
Qualifications and Experience
Education: 
Advanced University Degree in Public Health, Social Science or related field
Knowledge and Experience:
At least 2 years or more of professional experience at the national and sub-national level in emergency preparedness and response
Good analytical skills and interpersonal skills
Demonstrated leadership, facilitation, and team work skills and ability to establish harmonious relations in an international and multicultural environment, both within and outside UNFPA
Excellent written and oral communications skills in English and Nepali
We are no longer accepting applications for this position.
Nepal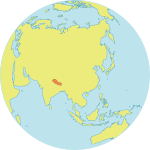 Population : 29.9 mil
Maternal Mortality Ratio
258
Contraceptives prevalence rate
54
Population aged 10-24
32%
Youth secondary school enrollment
Boys 53%
Girls 57%