NATIONAL POST, Project Coordinator, Comprehensive Sexuality Education, Kathmandu, Nepal CO, NOB
Contract Type: Fixed Term Appointment
Closing date: 21 August 2018 - 5:00pm(Kathmandu time)
Duty station: Kathmandu, Nepal
Job ID: 17745
---
PLEASE NOTE THAT THIS VACANCY IS ONLY FOR NATIONALS OF NEPAL.
The Position:
The Comprehensive Sexuality Education (CSE) Project Coordinator will be responsible for the overall management of the Comprehensive Sexuality Education (CSE) projects under the UNFPA's 8th Country Programme Action Plan (CPAP) 2018-2022 and UNFPA's Strategic Plan (2018-2021). The CSE Project Coordinator will work under the overall direction and supervision of the UNFPA Assistant Representative and in close coordination with the Ministry of Education (MoE) and related Divisions/Units; Ministry of Health and Population  (MoHP)/ Family Health Division and related Divisions/centers, Sub-national authorities, partner UN agencies and I/NGOs.
The incumbent will work closely with relevant UNFPA colleagues across sectors and at all levels of the organization. S/he will participate in related technical committees and sub-groups assigned to him/her.
Job Purpose:
The purpose of this position is to oversee and support effective implementation of the CSE programme and projects that are currently under implementation in 10 districts across Nepal. The current two projects 1) Achieving Gender Equality through Education through the Expansion of Comprehensive Sexuality Education in Schools, funded by the Australian Department of Foreign Affairs and Trade (DFAT) and 2) Empowering Adolescent Girls and Young Women through the Provision of Comprehensive Sexuality Education and a Safe Learning Environment in Nepal, funded by KOICA in partnership with UNESCO will continue until 2021 and 2020 respectively. 
In the present federal context, the programme aims to engage with the relevant provincial and local authorities for prioritization and integration of CSE in education and health programmes, and to strengthen capacity of the government officials and service providers in this regard.  Further, the programme aims to closely engage with other local stakeholders including adolescents to create an enabling environment for CSE teaching and learning.
Requirements:
Qualifications and Experience
Education: 
Advance University degree in Public Health, Social Science or related field. 
Knowledge and Experience:
At least two years or more of progressively responsible professional experience in managing and coordinating projects preferably in the area of CSE, life-skills education, or adolescent health.
Good analytical skills and ability to interpret complex socio-cultural backgrounds as well as quickly obtain an overview of a variety of activities and approaches of national and international actors.
Experience of working with Government and Non-Government partners at the national and sub-national level, with current knowledge in decentralization of education system in the federal context and of the latest developments in the field of CSE is preferable.
Excellent written skills and ability to elaborate reports, document and disseminate good practices and programme successes for further dissemination.
Excellent computer knowledge and skills.
We are no longer accepting applications for this position.
Nepal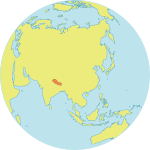 Population : 29.1 mil
Maternal Mortality Ratio
186
Contraceptives prevalence rate
43
Population aged 10-24
32.1%
Youth secondary school enrollment
Boys 61%
Girls 63%