NATIONAL POST: Programme Specialist, Strategic Partnerships/Resource Mobilization, Jakarta, Indonesia Country Office, NOC
Contract Type: Fixed Term Appointment
Closing date: 21 March 2018 - 5:00pm(Jakarta time)
Duty station: Jakarta, Indonesia
Job ID: 15011
---
PLEASE NOTE THAT THIS VACANCY IS ONLY FOR NATIONALS OF INDONESIA.
Position summary:
The Programme Specialist post is located in the Country Office of UNFPA in Jakarta, and is under the overall supervision of, reports directly to the Representative. S/He is part of an inter-disciplinary country team.
 
The Programme Specialist contributes to the implementation of the UNFPA 9th Indonesia Country Programme, in the context of the ICPD Programme of Action and UNFPA Strategic Plan as well as national development processes, frameworks and UN reform.  
 
Key results expected of the Programme Specialist include: 
• Assistance in advocacy and positioning of ICPD in national policy dialogue; and
• Support to resource mobilization efforts by the country office
 
The primary activities of the Programme Specialist are:
• Initiation and maintenance of Strategic Partnerships, Policy Advocacy Development and Implementation on ICPD
• Resource Mobilization, including with new partners
• Innovation
• Knowledge Management 
 
As the Strategic Partnerships/Resource Mobilization Programme Specialist, he/she will ensure support to the programme units for enhancing ICPD by working with relevant staff and coordinating across relevant programme units to ensure that the programme needs are met
Requirements:
Qualifications and Experience
Education:   
 
Post-graduate University Degree or equivalent in international relations, public health, journalism, media and/or communications, sociology, demography, gender, economics, international development, public administration, management or other related field.
 
Knowledge and Experience: 
 
• Five years of increasingly responsible professional experience in development and policy relevant to population and development, sexual and reproductive health, youth and gender
• Substantive knowledge on ICPD ie population and development, sexual and reproductive health, youth and gender; 
• Experience in building strategic partnerships and resource mobilization
• Experience in programme and/or technical assistance with the UN System
 
Languages:
Fluency in English and Bahasa Indonesia is required.  
 
Other Desirable Skills: Initiative, strong conceptual and analytical abilities, sound judgment, liaison skills, negotiation skills, administrative and management skills, strong interest in development work, especially the mission of the United Nations Population Fund and dedication to the principles of the United Nations. 
We are no longer accepting applications for this position.
Indonesia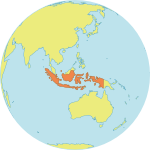 Population : 266.8 mil
Maternal Mortality Ratio
126
Contraceptives prevalence rate
61
Population aged 10-24
26%
Youth secondary school enrollment
Boys 76%
Girls 78%