National post: Information Technology Associate (IT), Cairo, Egypt
Contract Type: Fixed Term Appointment
Closing date: 9 August 2018 - 5:00pm(Cairo time)
Duty station: Cairo, Egypt
Job ID: 17641
---
Job Summary
The Information Technology (IT) Associate is responsible for implementing the organizational ICT strategy for the UNFPA Country Office in Egypt. You will implement ICT policies and standards established by the HQ; provide ICT and administrative support services to the UNFPA Country Office; and provide daily technical support to users of information management tools and technology infrastructure.
You will report directly to the Operations Analyst.
How you can make a difference:
UNFPA is the lead UN agency for delivering a world where every pregnancy is wanted, every childbirth is safe and every young person's potential is fulfilled.  UNFPA's new strategic plan (2018-2021), focuses on three transformative results: to end preventable maternal deaths; end unmet need for family planning; and end gender-based violence and harmful practices.
In a world where fundamental human rights are at risk, we need principled and ethical staff, who embody these international norms and standards, and who will defend them courageously and with full conviction.
UNFPA is seeking candidates that transform, inspire and deliver high impact and sustained results; we need staff who are transparent, exceptional in how they manage the resources entrusted to them and who commit to deliver excellence in programme results.
Job Purpose:
In the UNFPA country office in Egypt and in the context of the implementation of the 10th Country Programme, you will play a vital role in ensuring the smooth provision of critical services relating to information and communication technology to the UNFPA Egypt Country Office staff. You will build close relationships with CO programme and operations teams, Regional and HQs-based IT Specialists, national counterparts, IT service providers as well as the UN agencies for efficient and effective delivery of quality IT services.
You will provide quality support to ensure efficient and reliable information technology requirements are fulfilled and reported in a timely manner with required quality checks, in line with UNFPA guidelines and procedures. 
Education:    
Completed Secondary Level Education, with relevant certifications in hardware and software management and application, including Microsoft Certified Professional (MCP) required. University Degree in Computer Science desirable
Knowledge and Experience:
7 years of relevant working experience, including network administration, support to management of hardware and software platforms, telecommunications facilities, knowledge of Windows-based packages/applications;
Prior experience in working with ERP (preferably PeopleSoft/Oracle) is an advantage;
Good knowledge of PC/LAN operating systems, Microsoft Windows, corporate ICT security and viral protection systems, ERP;
Ability to perform a variety of standard specialized and non-specialized tasks and work processes that are fully documented, researched, recorded and reported;
Ability to review a variety of data, identify and adjust discrepancies, identify and resolve operational problems;
Some experience in client support, such as, a Help Desk or User Support Unit;
Ability to provide input to business processes re-engineering, elaboration and implementation of new systems.
Languages:
Fluency in English and Arabic are required.
We are no longer accepting applications for this position.
Egypt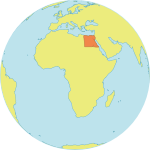 Population : 104.3 mil
Maternal Mortality Ratio
37
Contraceptives prevalence rate
44
Population aged 10-24
26.3%
Youth secondary school enrollment
Boys 98%
Girls 0.98%