NATIONAL POST: ICT Associate, Yangon, Myanmar Country Office
Contract Type: Fixed Term Appointment
Closing date: 10 February 2018 - 5:00pm(Bangkok time)
Duty station: Yangon, Myanmar
Job ID: 14155
---
PLEASE NOTE THAT THIS VACANCY IS OPEN ONLY TO NATIONALS OF MYANMAR.
Position Summary:
Under overall guidance of International Operations Manager, the ICT Associate is located in Country Offices (CO) in Yangon and reports to Admin and Finance Associate. 
The ICT Associate is responsible for assisting with: implementing ICT policies and standards established by the HQ; providing ICT and administrative support services to the UNFPA Country Office; and providing daily technical support to users of information management tools and technology infrastructure. 
Requirements:
Qualifications and Experience
Education:  
 
Completed Secondary Level Education required. University Degree in Computer Science desirable.
 
Knowledge and Experience:
 
• Relevant certifications in hardware and software management and application required, including Microsoft Certified Professional (MCP);
• 6 years of relevant working experience, including network administration, support to management of hardware and software platforms, telecommunications facilities, knowledge of Windows-based packages/applications;
• Good knowledge of PC/LAN operating systems, Microsoft Windows, corporate ICT security and viral protection systems, ERP;
• Ability to perform a variety of standard specialized and non-specialized tasks and work processes that are fully documented, researched, recorded and reported;
• Ability to review a variety of data, identify and adjust discrepancies, identify and resolve operational problems;
• Some experience in client support, such as, a Help Desk or User Support Unit; 
 
Languages: 
 Fluency in English and Myanmar is required.
We are no longer accepting applications for this position.
Myanmar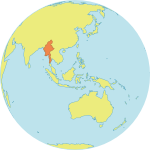 Population : 54.4 mil
Maternal Mortality Ratio
250
Contraceptives prevalence rate
33
Population aged 10-24
27%
Youth secondary school enrollment
Boys 61%
Girls 67%