National Consultant: Community Manager, WCARO, Dakar, Senegal
Contract Type: Consultancy
Closing date: 31 October 2020 - 5:00pm(Dakar time)
Duty station: Dakar, Senegal
---
Duration and working schedule :
The Consultancy is required for a period of 6 months, from 01 January 2021 to 30 June 2021.
Place where services are to be delivered :
Home/Office based. May require travel from time to time.
Purpose of consultancy :
Community Manager for all digital and social media platforms of UNFPA West and Central Africa Regional Office 
Background : 
UNFPA's West and Central Africa Regional Office (WCARO) is based in Dakar, Senegal, and covers 23 countries in the region. There are 14 French-speaking countries (Benin, Burkina Faso, Cameroon, Chad, Central African Republic, Congo, Cote d'Ivoire, Gabon, Guinea, Mali, Mauritania, Niger, Senegal, and Togo), five English-speaking countries (Gambia, Ghana, Liberia, Nigeria, and Sierra Leone), three Portuguese-speaking countries (Cabo Verde, Guinea Bissau, and Sao Tome and Principe) and one Spanish-speaking country (Equatorial Guinea).
WCARO engages national governments in the implementation of the Framework of Actions of the International Conference on Population and Development Beyond 2014 (ICPD beyond 2014). Its 2018–2021 strategic plan is aligned with the 2030 Agenda for Sustainable Development and the African Union's Agenda 2063. It works to promote and build transformational partnerships and alliances with member states and governments, other international organizations, regional institutions, economic commissions, civil society, faith-based organizations, and the private sector. WCARO is part of the UN-coordinated response within the framework of the global humanitarian response plan for COVID-19 of the Inter-Agency Standing Committee (IASC).
In West and Central Africa, UNFPA maintains its commitment to governments and partners to prioritize addressing the specific needs of women and girls, in line with the agency's goals to end unmet need for family planning, preventable maternal mortality, and gender-based violence and harmful practices by 2030.
This includes helping governments to ensure continuity in the quality of reproductive, maternal, newborn, child, and adolescent health services. In all countries in the region, UNFPA seeks to strengthen health systems, including emergency obstetric care, routine antenatal care, and postnatal care, as well as family planning and gender-based violence services.
UNFPA WCARO has regional communications and advocacy strategic plan which provides an overarching framework and rationale to guide and support the successful implementation of the Regional Interventions Action Plan for West and Central Africa, and the Strategic Plan for 2018–2021.
One of the key regional communications strategies is to "leverage digital and social media to amplify key messages, maximize outreach, and increase influence across different population segments."
Scope of work: (Description of services, activities, or outputs) :
The Community Manager will manage the UNFPA's online voice for West and Central Africa (WCARO) and build brand awareness and loyalty from the regional office in Dakar
The Community Manager will be responsible for aligning all UNFPA WCARO communications, public advocacy, social media, and marketing content to create a strong brand identity and positioning. S/he will contextualize/reinforce messages from headquarters on UNFPA domains of intervention (Sexual and Reproductive Health and Rights, Adolescents, Youth and Women's Empowerment, Human Rights and Gender Equality, Evidence, Knowledge and Population). S/he will be the first point of contact for online fans and followers, thus developing an intimate relationship with the online community, maintaining and updating social media accounts on Facebook, Twitter, Instagram, LinkedIn, YouTube, etc.
S/he will need to have a deep passion for social media, stay abreast of new developments and opportunities in around Sexual and Reproductive Health and Rights issues, and be a strategic thinker.
Major activities and expected results :
Develop, plan and implement digital, social media, and communications campaigns and strategies
Provide engaging text, image, and video content for all social media and professional accounts
Create engaging content for all platforms, including the website, blog pieces, articles, social media posts, newsletters, and videos.
Engage with the online community and respond to comments and requests.
Analyze web traffic and relevant community metrics and systematically report performance.
Relay community feedback to relevant internal stakeholders.
Devise and implement community communication initiatives.
Liaise with other Units to stay updated on new marketing initiatives, product and service developments, and to ensure brand consistency.
Liaise with other offices, UN external agencies, partners, and journalists to ensure accurate brand representation
Monitor, track, and report on feedback and online reviews. Provide updates on a regular basis and at a frequency determined by the WCARO Media Specialist Communications Adviser.
Stay up-to-date with digital technology trends
Supervisory arrangements :
The Consultant will work under the direct supervision of the WCARO  Media Specialist.
Required expertise, qualifications, and competencies, including language requirements :
Proven work experience as a community manager, digital and social media management or similar role
Experience planning and leading online community initiatives
Ability to identify and track relevant community KPIs
Excellent verbal communication skills
Excellent writing skills
Excellent interpersonal and presentations skills
Hands-on experience with social media management, applications, and content management systems
Ability to analyze and interpret website traffic
Knowledge of online marketing
Attention to detail, critical-thinker, and problem-solver
5 years' previous relevant experience including some experience in research assistance;
Previous experience in the UN, especially UNFPA an advantage;
Strong interpersonal and organizational skills;
Computer literacy - Word, Excel, Power-point, etc.;
Demonstrated ability to work in a team environment
Fluency in French and in English
Inputs/services to be provided by UNFPA or implementing partner (e.g. support services, office space, equipment), if applicable :
The Regional Office will take care of financial, managerial, and logistic issues. 
How to apply :
Applicants with the required qualifications and experience stated above (Required expertise, qualifications, and competencies, including language requirements) should submit soft copies of their proposals to unfpa.wcaro.recruitment@unfpa.org  no later than the 31st October 2020 at 5 pm (Dakar time).
Only those candidates who meet all qualifications and experience will be contacted for further consideration. Incomplete applications will be automatically disqualified. 
Disclaimer : 
UNFPA does not charge any application, processing, training, interviewing, testing, or another fee in connection with the application or recruitment process. Should you have received a solicitation for the payment of a fee, please disregard it. Furthermore, please note that emblems, logos, names, and addresses are easily copied and reproduced. Therefore, you are advised to apply particular care when submitting personal information on the web. Should you feel that you have received a fraudulent notice, letter, or offer that makes use of the name or logo of UNFPA, you may submit a report through the UNFPA fraud hotline http://www.unfpa.org/help/hotline.cfm
We are no longer accepting applications for this position.
Senegal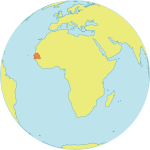 Population : 16.7 mil
Maternal Mortality Ratio
315
Contraceptives prevalence rate
22
Population aged 10-24
32.1%
Youth secondary school enrollment
Boys 36%
Girls 39%