Logistics, Inventory and Emergency Procurement Specialist, Procurement Services Branch (PSB), Copenhagen, Denmark, P-3
Contract Type: Fixed Term Appointment
Closing date: 29 July 2020 - 5:00pm(New York time)
Duty station: Copenhagen
Job ID: 31618
---
The Position:
The post is located in the UNFPA Procurement Services Branch (PSB) in Copenhagen. The position entails management of three Emergency Procurement Associates, one Senior Logistics/Shipping Associate, two Logistics/Shipping Associates and one Demand Planner & Inventory Associate. The incumbent will report to the Deputy Chief of PSB.  
How you can make a difference:
UNFPA is the lead agency of the United Nations (UN) for delivering a world where every pregnancy is wanted, every childbirth is safe, and every young person's potential is fulfilled.  UNFPA's new strategic plan (2018-2021), focuses on three transformative results: to end preventable maternal deaths; end unmet need for family planning; and end gender-based violence and harmful practices. 
In a world where fundamental human rights are at risk, we need principled and ethical staff, who embody these international norms and standards, and who will defend them courageously and with full conviction.
UNFPA is seeking candidates that transform, inspire and deliver high impact and sustained results; we need staff who are transparent, exceptional in how they manage the resources entrusted to them and who commit to deliver excellence in programme results.
Job Purpose:
In direct support of UNFPA's strategy to achieve the International Conference on Population and Development (ICPD) goals and Sustainable Development Goals (SDGs), the role will be required to perform the following: 
1. Production of demand projections, procurement plans, and systems for forecasting procurement and warehousing of reproductive health commodities
2. Production of short/medium term, operational procurement plans for contraceptive and related products/kits.
3. Determination of standard product stock levels and replenishment cycles.
4. Managing replenishment of reproductive health (RH) commodities, including inter agency reproductive health (IARH) kits and other key commodities held in stock
5. Tracking of inventory held in supplier warehouses/elsewhere.
6. Improve knowledge management relating to the logistics, inventory/ emergency procurement processes.
7. Supporting the business development and expansion of products held as PSB/UNFPA inventory.
8. Ensuring the active engagement of PSB in inter-organisational coordination groups to address stock-outs, overstocks proactively, and thus improve RH supply chain performance more efficiently and cost-effectively.
9. Supporting project activities relating to the development of supply chain capabilities.
10. Supervising the Inventory/Emergency procurement team of PSB and ensuring mitigation measures are in place to address potential supply bottlenecks
11. Supervising the Logistics team of PSB, in particular ensuring efficient engagement of the global United Nation freight forwarders to ensure cost effective freight services and  minimum disruption of the UNFPA logistics activities from export clearance to custom clearance. 
12. Supervising the Demand Planner & Inventory Associate of PSB to ensure accurate forecast data.
Requirements:
Qualifications and Experience 
Education: 
Advanced university degree (or equivalent: i.e. CPA, ACCA, Jurist Doctor, etc.) in Economics, Law, Public Administration, Commerce, Business Administration, Accounting, Procurement, Supply Chain Management and Logistics or related field required.
Procurement accreditation by recognised learning institute such as CIPS is an asset.
Knowledge and Experience: 
● 5 years of progressively responsible experience in logistics, inventory management and procurement operations in a multi-cultural environment is required.
● Experience with managing staff is required.
● Specialised knowledge in business, logistics, contract management is required.
● Good knowledge of IT-tools such as Windows office package required. Knowledge of PeopleSoft, Oracle or similar Enterprise Resource Planning (ERP) system is required.
● Good understanding of the UN working environment, including financial framework and procedures highly desirable.
● Good understanding of international trade laws and treaties is an asset.
Languages:
Fluency in English is required; knowledge of other official UN languages, preferably French and/or Spanish, is desirable.
We are no longer accepting applications for this position.
Denmark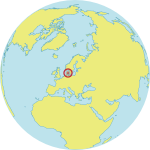 Population : 5.8 mil
Maternal Mortality Ratio
4
Contraceptives prevalence rate
65
Population aged 10-24
18.1%
Youth secondary school enrollment
Boys 90%
Girls 92%