JPO Programme Analyst (Health Economics), P-2, Cote d'Ivoire
Contract Type: Fixed Term Appointment
Closing date: 22 February 2019 - 6:00pm(New York time)
Duty station: Abidjan, Cote d'Ivoire
---
This vacancy is addressed exclusively to candidates with the German nationality.
The maximum age of the applicant must be 32 years as of 1 January of the year of application.
Background:
After a devastating decade of political and military crisis (2001-2011), the country has gradually and steadily regained its stability. Macro-economic indicators are good and economic growth has been 8-9% over the last three years. The Government has an ambitious agenda of reaching an emerging economy status by 2020, and adopted a trickle-down effect policy to its development. Consequently, massive investments have been allocated to Energy and Infrastructure sector development. A somewhat lesser attention has been given to basic social needs. Despite having embraced the pursuit of demographic dividend in key national planning and policy documents, there has been little effective actions to promote and foster gender equality, women's empowerment, girls' education. Illiteracy levels are dangerously low at 63% among women and 49% among men. Despite mandatory schooling up to 16 years of age, primary enrolment for girls remains at 60%. It falls to 54% at the end of primary school; and drops dramatically to 29% at the end
of first cycle of secondary school. Youth unemployment is high, fuelling out-migration and frustration. Given the positive Country's macro-economic performance, Cote d'Ivoire is not on the radar of traditional donors for social sector development. Rather, the country relies on loans from financial institutions such as the World Bank, the African Development Bank and Government bonds.
The United Nations System has been present for a few decades in Cote d'Ivoire and boasts today a presence of more than ten resident agencies. UNFPA's Programme of Cooperation is on its seventh (7th) cycle. The current Country Programme 2017-2020 key result areas are: a) sexual and reproductive health and rights; b) adolescent & youth development; c) gender and human rights and gender based violence. Population dynamics is a crosscutting area. Current UNFPA personnel complement is 45. Some key Country vital statistics:
Total Population: 24.6 million, 49% women.
Maternal Mortality ratio 614/100,1000
Illiteracy rates among women 63%; 49% among men 
Total Fertility Rate: 4.6; Teen fertility: 129/1000; modern Contraceptive Rate: 15%
Women participation in modern job market: 26.4% compared to 52% for men.
Poverty rate for women is 47.4% against 46% Country average.
Gender inequality high especially in Secondary and tertiary education, employment, and access to
basic social services.
Female Genital Mutilation national average: 38%. Northern regions reach 80%
Gender-based violence (GBV): No official national data. However, 2896 cases notified by the GBV
platforms in 2016.
Education and Experience:
Master's Degree in Health Economics, Public Health, Epidemiology, Health systems or other related field.
Minimum 2 years of professional experience, in international development or corporate sector.
Strong orientation to research and analytical statistical work, are strong assets.
Exposure to professional or academic background on SRHR issues is desirable.
Sound knowledge about the UN System, multi-lateral or bilateral donor, and understanding of human rights-based approach an advantage.
Commitment to development work essential. Professionalism, maturity, integrity and confidentiality.
Teamwork spirit, learning spirit, client focus, good inter-personal communication and negotiation skills.
Pro-active and capable of effectively working independently with minimum guidance.
Administrative, management and organizational skills, including time management.
Strong problem-solving skills, with creativity and flexibility to fashion viable alternatives.
Proficiency in computer applications and presentation skills are essential: MS Word, MS Excel, MS
PowerPoint, data management, prezzie and other presentation software. 
Proficiency in statistical software such as SPSS, Epi info and SAS
We are no longer accepting applications for this position.
Côte d'Ivoire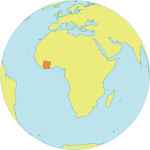 Population : 25.5 mil
Maternal Mortality Ratio
645
Contraceptives prevalence rate
20
Population aged 10-24
32%
Youth secondary school enrollment
Boys 45%
Girls 33%