Individual Consultant to conduct a Vulnerability & Infrastructure Assessment, UNFPA Sub-Office, Cox's Bazar, Bangladesh
Contract Type: Consultancy
Closing date: 31 March 2020 - 5:00pm(Dhaka time)
Duty station: Cox's Bazar
---
Duration: 4 months
Duty Station: Cox's Bazar, Bangladeh
----------------------------------------------
Purpose of Consultancy:
UNFPA is the lead UN Agency providing services to meet the needs and mitigate risks related to Sexual and Reproductive Health (SRH) and Gender Based Violence (GBV) globally and in Bangladesh. Since August 25th of 2017, more than 745,000 Rohingya refugees from Myanmar's Rakhine State have crossed the border into Cox's Bazar in search of safety.  The total affected population is approximately 1.2 million refugees and host community members, of whom 646,00 are women and girls.   
Globally, women and girls are disproportionately affected by various forms and patterns of GBV. According to the GBVIMS quarterly report for the Cox's Bazar response, 98% of survivors are female, and 95% of survivors are refugees. Aside from surviving severe incidents of GBV in Myanmar and during their flight to Bangladesh,  Rohingya  women and girls continue to experience violence and abuse in their new communities.  
Physical violence is the most common form of GBV reported, and at this stage of the protracted emergency,  a high proportion of this is  intimate partner or family violence.  Sexual assault and rape within the current context, as opposed to flight, are thought to be widely underreported, particularly incidents against girls, due to punitive social consequences.  Many family units in camp are female-headed (up to one in five);  female- headed households as well as adolescent girls and children are highly vulnerable to GBV due to their relative power disadvantages both in physical and social terms.  Denial of resources to women and girls, whether as a reaction to scarcity or an attempt to keep them at home for security,  is also a common barrier to services and is a form of GBV.   
Little data is available around the needs and risks for people living with disabilities in the Cox's Bazar camps but a gender analysis conducted in 2018 concluded that women and girls with disabilities are among the most vulnerable and excluded groups.  Child marriage is hidden but common, with parents  arranging marriages for daughters under 18 as a mechanism for keeping them "safe" from harassment or sexual violence from males in the camp and host communities.  With a lack of livelihoods, education, and options, women and girls may turn to illicit work or exploitative relationships in desperation, putting them at ongoing risk of harm.  Issues such as increased religious radicalization, social pressure from the most conservative elements of society, and the increasing rate of drug use among males are identified as contributing factors that can exacerbate GBV. 
In addition to these normalized harmful social practices and the coping mechanisms adapted since displacement, infrastructure factors affect GBV risk for women and girls both in their homes and while navigating the physical layout of camp, e.g. collecting water, obtaining relief items, and using sanitation (WASH) facilities.  Increased overcrowding and limited privacy across all refugee camp sites exacerbate existing, safety and security risks for women and girls.  According to the Needs and Population Monitoring Report, Round 13 (International Organization for Migration),  top safety concerns in camp are the  lack of adequate lighting in houses and public places, the lack of access to appropriate latrines (reported by 43% of those surveyed), and the lack of access to safe bathing facilities (53%).   As population/service hubs have developed, travel distance to reach particular facilities from some areas of camp becomes another obstacle for some women and girls. 
Under the Multi-Sector Rohingya Crisis Response Project funded by World Bank and administered by the Government of Bangladesh, UNFPA will expand its current GBV response services to additional camp locations, increase community engagement on GBV prevention, and provide cross-sectoral leadership on gender mainstreaming and GBV risk mitigation to Fund partners that will be planning and implementing infrastructure development projects in the Rohingya camps.   To provide the basis for effective leadership, UNFPA will engage a technical consultant to prepare two reports at the outset of the project: a Vulnerability Analysis and a Situational/Infrastructure Review.   
Scope of work:
Under the overall guidance of the GBV Program Specialist, the technical specialist will be hired on a four-month contract to conduct: 
 (1) a Vulnerability Analysis to  identify the risks, needs, and challenges of groups within the Rohingya population including, but not limited to, women and girls, people living with disabilities, the elderly, and female-headed households.  This analysis will describe the baseline vulnerability scenario, including an examination of the   underlying social inequalities that put all women and girls at risk of violence.     
(2) a Situational/ Infrastructure Review that examines the gaps in infrastructure and access to facilities.  This will include UNFPA's Women Friendly Spaces and Women-Led Community Centers as well as other services and facilities determined by the projects implemented by Fund partners.  The resulting report will make recommendations to ensure that  the structural factors affecting service access are identified and recommendations are made for compliance with standards of social and gender inclusion.    .   
The Technical Specialist will work together with a national research assistant, who will provide interpretation, translation and assist in interviews and data collection for vulnerability baseline and situational reports at the beginning of the project. The technical specialist will also work in close collaboration and coordination with the GBV and SRHR Team Leads and the Coordinators of the GBV Sub Sector and the SRHR Working Group in Cox's Bazar, in order to align with best practices in terms of data collection and information management, to obtain introductions to partners and key informants, and to ensure no harm is done while in the field. 
Under the direct guidance and supervision of the Cox's Bazar GBV Program Specialist, as well as general supervision from the Head of Sub-Office, UNFPA CXB. 
Specific work plan (week 2).  Progress reports (monthly).  Dates for first drafts of  vulnerability assessment and situational analysis study and final drafts to be determined (no later than 3.5 months). All documents to be submitted to UNFPA in electronic copy.
Progress will be monitored on a monthly basis, sharing electronic updates against terms of reference and deliverables as per initial agreement.
Major Duties and Responsibilities:
-    Conduct an assessment to encompass the overall situation in the camps including a vulnerability assessment, identifying challenges and needs of specific groups within the refugee population; this will form a baseline vulnerability scenario. 
-    Conduct a situational analysis study to identify the challenges/gaps in infrastructures, services and facilities, including WFS and WLCCs, and make recommendations to ensure that these meet standards of gender and social inclusion and are fully compliant. 
-    The results of this assessment will inform the GBV Unit on possible locations where 16 new Women Friendly Spaces (WFS) will be established, in close collaboration with the GBV Sub Sector.
Requirements:
Qualifications and Experiences:
Education:
-    Advanced degree with specialization in areas such as social work, psychology, public health, gender, law/human rights, international relations, and/or other related social science disciplines.
Experiences:
-    At least five years of specialized experience conducting international humanitarian field assessments; experience in the fields of GBV and SRH is essential.
-    Experience coordinating and liaising with government counterparts and other stakeholders, including NGO and affected communities.
-    Excellent understanding of human rights approach.
-    Practical experience conducting research and developing analytical and lessons learned documents in the humanitarian field.
-    Capability to deliver results on time, even under stressful situations.
-    Proven communications and inter-personal skills, IT literacy, as well as organizational skills and time-management.
-    Fluent oral and written English communication skills.
Office space and equipment. Assistance in organizing visas and logistics as per arrival in the country.
The consultant will be provided with office vehicle support or the actual cost of transportation whilst working on mission and whilst traveling for official purposes in Dhaka and Cox's Bazar.
The consultant will be paid monthly. DSA and travel will be calculated as per UNFPA IC policy. 
How to apply:
Interested candidates are requested to send their cv to this mail address: chandramogan@unfpa.org
We are no longer accepting applications for this position.
Bangladesh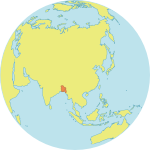 Population : 168.1 mil
Maternal Mortality Ratio
176
Contraceptives prevalence rate
64
Population aged 10-24
28%
Youth secondary school enrollment
Boys 57%
Girls 67%