Gender & Human Rights Specialist, Mopti, Mali, P-3
Contract Type: Fixed Term Appointment
Closing date: 29 June 2020 - 5:00pm(New York time)
Duty station: Mopti, Mali
Job ID: 30849
---
The Position:
The Gender and Human Right Specialist collaborates with UN agencies, academia, research and training institutions, professional societies, and act when necessary as focal point for inter­agency working groups in the substantive area.  S/He represents the project "Eliminating Gender Based Violence" on issues related to gender and SRHR issues in the area of responsibility. S/He also provides technical and managerial support to COs and partners in the implementation of initiatives aimed at eliminating sexual, gender based violence and other harmful practices.
The Gender and Human Rights Specialist will work under the overall leadership of the Country Office Representative.
How you  can make a difference:
UNFPA is the lead agency of the UN for the realization of a world where every pregnancy is desired, every birth is safe, and every young person's potential is fulfilled. The new UNFPA strategic plan (2018-2021) focuses on three transformative outcomes: ending preventable maternal deaths; end unmet need for family planning; and end gender-based violence and other harmful practices.
In a world where fundamental human rights are under threat, we need people of good ethics and principles, who embody international norms and standards, and who will defend them with courage and conviction.
UNFPA looks for candidates who transform, inspire and produce sustainable, high-impact results; we need transparent, exceptional staff in the management of the resources entrusted to them and who are committed to achieving excellence in program results.
Job Purpose:
The Gender and Human Rights Specialist acts as the GBV and Human Rights Focal Point and is responsible for forging and maintaining productive working relationships with the various stakeholders.
He/she contributes to the co-ordination and management of quality, timely and integrated technical support to the project "Eliminating Gender Based Violence".
Key results expected of the Gender and Human Rights Specialist include:
Technical Support and Advocacy
Capacity Development and partnerships
Evidence and Knowledge development
Coordination and Technical Representation
He/she provides or arrange technical assistance for program design, implementation, and evaluation in line with UNFPA rules and the guidelines of the Italian Agency of international Cooperation (AICS).
Qualifications and Experience:
Education
Advanced university degree in Public Health, Sociology, Gender, Economics, International Development, or other related fields.
Knowledge and experience:
At least 5 years of increasingly responsible professional experience in the substantive technical area, of which at least two years at the international level Strong technical knowledge in the science and application of social and behavioural change in the area of health services, family planning, youth and gender issues;
Experience in project management and in the region is required;
Proven ability to produce demonstrable results;
Extensive network within the development community;
Ability to work under pressure;
Ability to work in teams and in a multi­disciplinary, complex and multicounty programme environment.
Languages:
Fluency in English and French is required.
We are no longer accepting applications for this position.
Mali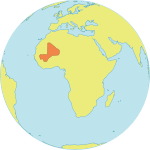 Population : 20.3 mil
Maternal Mortality Ratio
562
Contraceptives prevalence rate
17
Population aged 10-24
33.5%
Youth secondary school enrollment
Boys 33%
Girls 27%