Cross Border Humanitarian Coordinator, Gaziantep, Turkey
Contract Type: Fixed Term Appointment
Closing date: 21 November 2019 - 5:00pm(New York time)
Duty station: Gaziantep, Turkey
Job ID: 27049
---
The Position:
The Humanitarian Coordinator for Cross-border Operations will be posted in UNFPA field location in Gaziantep, Turkey.  Under the guidance of the UNFPA Representative and in coordination with the Regional Humanitarian Coordinator in Amman, you will contribute substantively to the design, planning and management of UNFPA's programme activities related to cross-border emergency RH and GBV from Turkey. This involves technical support, procurement of goods and services, managing data inputs, incorporating best practices, monitoring project implementation and following up on recommendations. You will actively participate in the management of cross-border humanitarian assistance to Syria from Turkey and work closely with all humanitarian actors on the ground, including UN agencies and international/national NGOs.
You will apply established systems and procedures and assist in the creation of substantive knowledge by compiling, synthesizing and analyzing information relevant to Whole of Syria context. You will be responsible for facilitating the RH AND GBV programme implementation for Syrians across Turkish border using appropriate mechanisms and systems via ensuring compliance with established procedures within the context of UNFPA Humanitarian Response Strategy and UNSC Resolution 2165. You will be responsible for the management of the UNFPA Field Office in Gaziantep.
You will report directly to the UNFPA Representative.
How you can make a difference:
UNFPA is the lead UN agency for delivering a world where every pregnancy is wanted, every childbirth is safe and every young person's potential is fulfilled. UNFPA's new strategic plan (2018-2021), focuses on three transformative results: to end preventable maternal deaths; end unmet need for family planning; and end gender-based violence and harmful practices.
In a world where fundamental human rights are at risk, we need principled and ethical staff, who embody these international norms and standards, and who will defend them courageously and with full conviction. UNFPA works in some of the world's toughest places, to reach the world's most disadvantaged communities. To save their lives. To defend their rights. To help them fulfill their potential.  The accountability of the post embraces UNFPA's advocacy with governments and partners as well as other aspects under UNFPA's strategic framework.
UNFPA is seeking candidates that transform, inspire and deliver high impact and sustained results; we need staff who are transparent, exceptional in how they manage the resources entrusted to them and who commit to deliver excellence in programme results.
Job Purpose:
Since the unrest in Syria, the influx of Syrian nationals into Turkey has been increasing. The Turkish Government has maintained an open border policy and is providing rapid and professional emergency response. As the number of Syrians increases significantly and Government of Turkey calls for international assistance, UNFPA Country Office has been expanding its support for promoting Reproductive Health (RH) services through Minimum Initial Service Package (MISP) and providing psychosocial support to the victims of violence. The United Nations Security Council Resolution 2165 has asked the UN Humanitarian agencies to provide humanitarian support to inside Syria from the neighboring countries, including Turkey.
Approximately 12.2 million Syrians are in need of humanitarian assistance inside Syria and 1.6 million inside Turkey. UNFPA Turkey responds to the needs of Syrian and Iraqi refugee women and children in Turkey and Syria via provision of reproductive health and family planning services and supplies, including maternal health and psychosocial support on gender-based violence in and out of camps to reduce the risks of maternal and infant mortality and morbidity, HIV infection, unwanted pregnancy, sexual violence and exploitation and other reproductive health-related conditions.
In line with the Regional Refugee and Resilience Plan for the Syrian refugees in Turkey and the SC Resolution 2165, you will be recruited to strengthen the current humanitarian programme that is implemented across the border. 
You will provide leadership and support at the local level in terms of RH and GBV coordination, facilitation and liaison in order to improve RH and GBV provision of services and information, and overall UNFPA mandate in the Syrian humanitarian crisis. You will integrate and support UNFPA humanitarian response strategy components including GBV activities as necessary in the field from the RH and GBV point of view.
Education: 
Advanced degree in Public Health, Medicine, Sociology, Demography, Gender, International Relations, International Development, Humanitarian Emergencies, Management or other related field.
Knowledge and Experience:
At least 10 years of progressive development and/or humanitarian work experience with 5 years in health, including management and supervisory experience
Demonstrated technical expertise and knowledge of health management, preferably RH, in humanitarian settings
At least 3 years international field experience in developing countries preferably with United Nations agencies, international NGOs
Experience in working with donors, proposal writing, and programme design
Strong communication skills, including the ability to write and present
Strong people management skills and ability to lead staff and promote productivity in a pleasant work environment
Ability to be flexible and work well under pressure in a fast-paced team environment
Languages:
Professional-level fluency in oral and written English. Knowledge in Arabic would be an asset.
We are no longer accepting applications for this position.
Turkey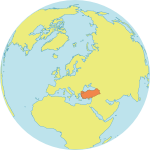 Population : 84.3 mil
Maternal Mortality Ratio
17
Contraceptives prevalence rate
48
Population aged 10-24
24.1%
Youth secondary school enrollment
Boys 88%
Girls 86%