Consultant: Develop the Regional Fistula Investment Case
Contract Type: Consultancy
Closing date: 22 May 2019 - 5:00pm(Dakar time)
Duty station: Dakar, Senegal
---
Context
Obstetric fistula is the presence of an abnormal tract created between the vagina and rectum (recto-vaginal fistula) or vagina and the bladder (vesico-vaginal fistula) as a result of prolonged obstructed labor without timely medical intervention-typically and emergency Caesarean section (Wall, 2012).
In West and central Africa, it its estimated that between 600.000 and 1.000.000 women are living with fistula and waiting for treatment while 30,000 new cases occur each year[1].
Obstetric fistula tends to affect the most marginalized members of society: young, illiterate women in remote areas. Contributing factors for obstetric fistula include poverty[2].
The social impact of urinary incontinence that derives from fistula is isolation, social deprivation and inability to engage in household chores and socioeconomic activities to support their families and communities[3]. The economic burden includes patient's loss of the ability to work and to generate incomes. In Nigeria for example a study reported that women with fistula were 50% more economically impoverished by job loss[4].
In West and Central Africa there is a scant literature on both the cost of fistula surgeries and the quantitative impact on women's earnings. However, UNFPA estimates that the average cost of obstetric repair including day of admission is situated around $ 500 per woman. This amount including post-operative care cannot be afforded by patients.
In order to address obstetric fistula issue in the WCAR, the UNFPA Regional Office has developed a Regional Strategy on eliminating obstetric fistula in West and Central Africa by 2030 alongside with a costed proposal to serve as a resources mobilization tool.
Thanks to the integrated work of UNFPA and key stakeholders in the fight against fistula, the ECOWAS First Ladies adopted in November 2017 a Declaration on the elimination of obstetric fistula in the sub region. In the same line, the ECOWAS Ministers of Health adopted in June 2018 a Resolution on the elimination of fistula and lately in December 2018, the UN General Assembly adopted the Resolution 77/147 on the "Intensification of efforts to end Fistula obstetric fistula"
Despite our efforts the regional fistula programme still underfunded. The MHTF thematic fund is the only source of funding at our disposal
Since our resources mobilization and advocacy efforts need to be supported by evidence-based and accurate data, WCARO, in partnership with  HQ is now engaged in assessing the cost effectiveness and the return on invest of obstetric fistula surgery.
Goal: To develop the regional fistula Investment Case
Study Objectives
To assess the economic burden of fistula on patients in West and Central Africa, both at individual, community and country level. In other words, the study should assess the impact of fistula from and economic perspective including impact on employment and economic empowerment opportunities;
Estimate the cost of the obstetric fistula response in West and Central Africa. For this purpose, the consultant should investigate national level cost information in the selected countries and aggregate country data to produce regional figures;
Estimate the cost-benefit of the socioeconomic impact of fistula surgery
Estimate the cost-effectiveness of obstetric fistula response and the return on investment in terms of life time disability gained (cost per DALY).
Interest of the study
The study is expected to provide accurate and evidence based-data for policy makers to support smart investment in fistula management and particularly, fistula treatment in the context of West and Central African Region.
The study is also expected to support the achievement of the World Health Assembly resolution on 'Strengthening emergency and essential surgical care and anesthesia as a key component of Universal Health Coverage'.
Qualification
Master degree in health Economics, public health or social sciences
Senior level experience (at least 7 years) in health economy
Extensive experience in project and program design and evaluation; Health
Services costing and financing, financial and in cost-effectiveness analysis of health related interventions (DALY calculation) , and health system financing
Previous experience in West and central Africa will be an asset
Duration:  60 working days
Note:  
Prior to the starting of the assignment, the consultant will receive and induction by the WRHU and EKPU
All travel arrangements, DSA, TA and security would be according to UNFPA procedures (Security training and security clearance before trips and security briefing upon arrival)
The WRHU will provide technical documentation
How to apply
Interested candidates should submit alongside with their CV and cover letter a short proposal comprised at least with the following information
Understanding of the TOR'
Key informants and documentary sources
Methodology of work
Identification of unit costs
Cost effectiveness calculation methodology
Methods of data analysis
Management of time
All applications (CV and cover letter) including their technical proposal, should be sent to the email address unfpa.wcaro.recruitment@unfpa.org at latest by 22 May 2019.
We are no longer accepting applications for this position.
Senegal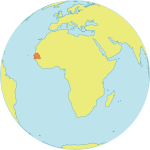 Population : 16.7 mil
Maternal Mortality Ratio
315
Contraceptives prevalence rate
26
Population aged 10-24
32%
Youth secondary school enrollment
Boys 35%
Girls 39%