Communications and Change Management Consultant
Contract Type: Consultancy
Closing date: 11 March 2019 - 5:00pm(New York time)
Duty station: New York, USA
---
The consultant will lead and execute the Project Communications, Training and organization alignment activities throughout various phases of the programme implementation. S/he will develop communication strategies to build awareness and support across key internal and external stakeholders, articulating in a clear manner the programme's scope, objectives and anticipated results. The consultant will also develop training strategies to support the preparation of the Agency in the use of the new solutions, as well as coordinate the preparation of all the training documentation and support materials/modalities.
Key Activities:
Organizational alignment: through direct execution and the use of team and external resource(s), ensure that that the business solutions and productivity tools within the scope of the ICTX are in alignment with the Fund's Internal Control Framework (ICF), and ensure the ICF and/or documentation of applications remains updated to reflect the deployed solutions;
Develop and execute effective communication and training strategies including communication plans and training plans, to mitigate or address the users concerns though the following:
Creation and communication of the Fund Business Transformation strategy resulting from the deployment of the solutions foreseen by ICTX;
Design and implementation, in close coordination with the technical team, of the communication strategy to build awareness of the ICTX programme and its activities in supporting the Fund change process;
Design, development and delivery of a training framework and approach providing umbrella for training activities to be delivered, with an emphasis on online training solutions; identification and analysis of training goals, training needs and designs including relevant methods and materials; contracting external contractors/consultants to implement training sessions and evaluate the results to upgrade the knowledge and skills of the staff Fund-wide to enable them to perform their professional role using the tools made available by the ICTX;
Strengthen and maintain professional relationships with key internal and external stakeholders and constituencies, donors, and UN peers to gain support for project activities and to maximize the impact of stakeholder participation;
Plans, develops and produces various information/ communication tools, including the department intranet, newsletters, flyers and audio-visual materials, to improve the visibility of the ICTX project;
Any other duties as assigned by the Director, ITSO.
Examples of expected outputs:
Process models
Role analysis and segregation of duties principles, RACI included
Change impact analysis
Stakeholder analysis
Communications strategy
Communications plan
Communications material
Training strategy
Training plan
Training materials
Progress reports
Required knowledge and experience
Advanced university degree in journalism, communications, public relations, business administration or related field; A university degree in combination with qualifying experience may be accepted in lieu of the advanced university degree or professional qualification.
Eight years of relevant professional experience including professional exposure to IT Projects and new technologies implementation.
A high level of demonstrated experience and expertise in the development and successful roll out of business transformation and IT systems;
Demonstrated experience in successfully designing large scale process transformations which have materially and structurally improved business processes using IT systems;
Excellent command of written and spoken English, should demonstrate fluency in both oral and writing communications.
Knowledge of the administrative systems utilized by the United Nations;
Vendor Management experience;
Certification as a Project Management Professional (PMP) or equivalent;
Previous experience with UN entities in ICT projects;
Required Competencies
Excellent communication skills and an ability to work effectively with people at all levels in the organization, dealing professionally and diplomatically with internal and external stakeholders;
Experience working on projects with UN Agencies;
Experience in all facets of communications and proven ability to conceptualize, design and implement major campaigns, strategies, or programs;
Knowledge of organizational design approaches, to support the role definition of the systems users;
Experience in training strategy definition and implementation;
Knowledge of training material design and realization;
Proven multi-tasking skills, including ability to work effectively under pressure, handle heavy volumes and meet demanding deadlines.
This assignment is for 11 months, with the possibility of further extension after required break in service.
How to apply
An application letter which states the candidate's motivation to apply for this consultancy, as well as a curriculum vitae/resume.  All documents must be sent by E-mail to:  itso.ext@unfpa.org by 11 March 2019
We are no longer accepting applications for this position.
United States of America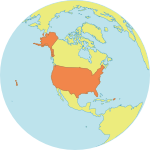 Population : 331 mil
Maternal Mortality Ratio
19
Contraceptives prevalence rate
64
Population aged 10-24
19.5%
Youth secondary school enrollment
Boys 92%
Girls 93%