UNFPA Executive Director Dr. Natalia Kanem was joined by the world's leading indigenous human rights defenders for a global conversation on the devastating impact that the COVID-19 Pandemic has had on indigenous peoples. The experts explored the entrenched inequalities, stigmatization and discrimination that have given rise to this disproportionate impact, particularly for indigenous women and girls; explore indigenous peoples' unique contribution to addressing the pandemic and reflect on the short and long term changes needed to build back a more equal and resilient world. 
The event featured simultaneous interpretation in Spanish and French, as well as international sign language.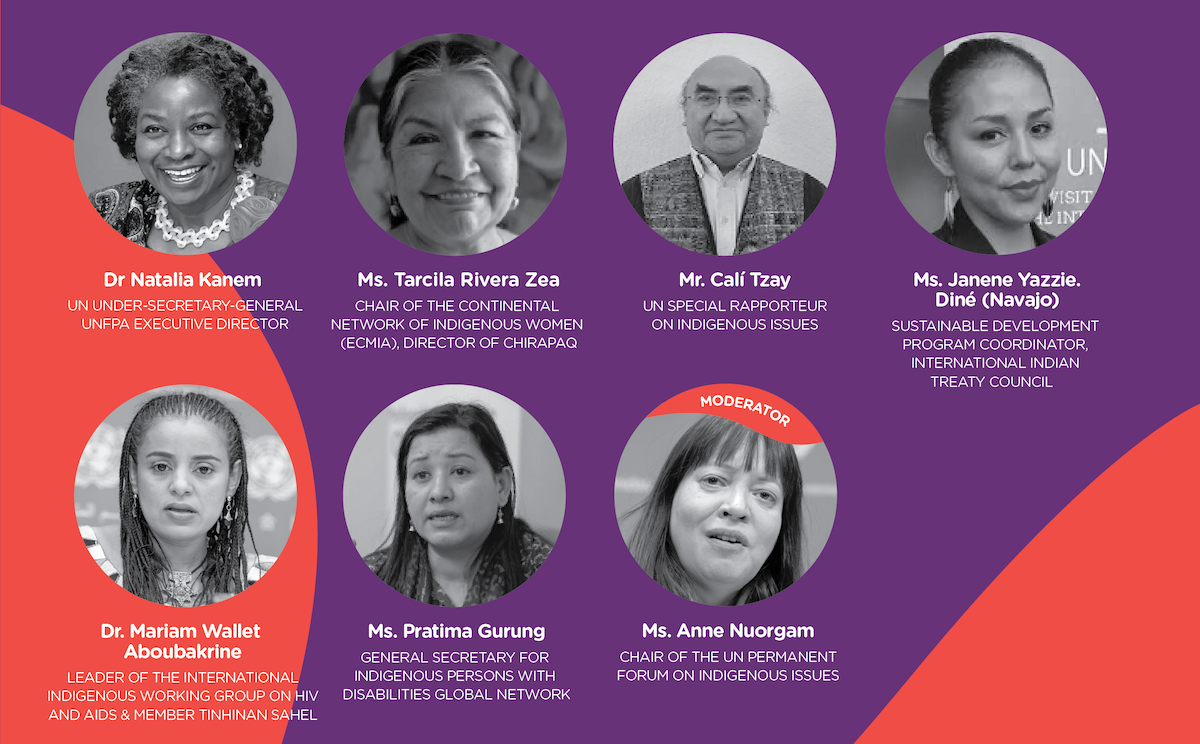 What we learned: What's Next Dialogue on Indigenous Peoples & Covid-19- the Disparate Impact.
"Queremos paz, queremos respecto y no queremos más violencia!" (we want peace, we want respect, and we want no more violence) So rang the indigenous blessing that started our UNFPA 'What's Next Dialogue on Indigenous Peoples and Covid-19- the Disparate Impact'. 
UNFPA held a thought leadership Dialogue on indigenous peoples' rights because, at last year's Nairobi Summit on ICPD25, indigenous women leaders issued a powerful call that more progress for indigenous women and girls was needed. But also because in the one year since Nairobi, the Covid-19 pandemic has brought to glaring attention the inequalities and discrimination that indigenous peoples face, as it has had a devastating and disproportional impact on indigenous communities both in the global north and south.
The Dialogue brought together some of the world's leading indigenous rights leaders and human rights champions. The Dialogue aimed to explore the inequalities and discrimination that have given rise to the disproportionate impact of the pandemic, particularly for indigenous women and girls; explore indigenous peoples' unique contribution to addressing it, and reflect on the changes needed to build back a more equal and resilient world.
Indigenous peoples have been marked by pandemics, sometimes deliberate, and almost always more devastating for women. Both pandemics and the structural stigma and discrimination that indigenous peoples face have century-old roots that underlie today's situation.
The high rates of ill health and susceptibility of indigenous peoples to infectious diseases, magnified during the Covid-19 pandemic, lies in the social determinants of poverty, poor housing, lack of education, food insecurity, low employment rates, loss of traditional lands and languages, obstacles to political participation and institutionalized racism. Moreover, indigenous peoples continue to be invisible because of the lack of disaggregated data or simply because States do not recognize their indigenous identity.
Covid-19 poses a critical threat to indigenous communities all over the world. The Special Rapporteur, based on his upcoming Report to the UN General Assembly, underlined three particular threats that indigenous peoples are facing: the growing xenophobia and discrimination against indigenous populations, who are being accused of spreading the virus in many regions and countries. The increase in criminal activities taking place in indigenous communities and territories. With States and transnational organizations taking advantage of the emergency to encroach on protected indigenous lands without their free, prior, and informed consent. Third, the lack of access to health services for indigenous peoples, in particular for indigenous women.
Women and girls are bearing the brunt of the pandemic. Indigenous women carry the triple burdens of productive, reproductive, and domestic work, which prevents them from seeking health services and accessing care. They also experience inequality in access to services due to discrimination in health centers and the lack of culturally appropriate health services that recognize their traditional indigenous practices, such as indigenous midwifery.
At the Nairobi Summit on ICPD25 last year, indigenous women leaders told the world that they want nondiscriminatory, culturally-appropriate health services, including sexual and reproductive health care, as a priority. They said that the often widespread discrimination in health care that translates into disrespect of indigenous peoples must end, once and for all. And they advocated for greater public awareness and respect for indigenous traditional knowledge and culture.
Yet the story of indigenous women is also a story of successes led by extraordinary women. Indigenous women have had an important role in shaping global discourse and commitments; for instance the 2013 Montevideo consensus on population and development for Latin America and the Caribbean. Today their call is for this commitment to be implemented and for indigenous women to be fully engaged in the national policy processes and programmes to do so.
Finally, the powerful role that indigenous peoples can play in shaping our response and ensuring we build back better rang loudly throughout the Dialogue. Indigenous peoples have a unique world view that recognizes that health equity can only be achieved through physical, emotional, cultural, and spiritual health, and recognizes the inter-connectedness of land and well-being. Indigenous peoples have a decisive role in shaping our understanding and shifting our development paradigm to a more holistic view of health and development. This understanding is critical for balancing our relationship with nature and human health.
What are the solutions to a more equal, sustainable, and equal world?
Our experts and panelists left us with four priority actions for lasting solutions:
Ensure indigenous peoples' participation and voice, particularly indigenous women and girls, in the Covid-19 response and recovery efforts.
Respect the rights of indigenous peoples- their right to land, self-determination, free, informed, and prior consent, and their right to health, education, livelihoods, and traditional knowledge.
Adopt an intersectional lens: recognizing the specific situation and multiple identities that indigenous peoples can hold- being a woman, indigenous, poor, living with a disability. All of which can exacerbate and compound inequalities.
Recognize indigenous people's world view to health and well-being: take a holistic approach to health that recognizes the physical, cultural, and spiritual dimensions of health, the interconnected relationship between land and well-being, and our connection and responsibilities to each other. This approach is critical for our healing process. 
The Dialogue is a step in the efforts by UNFPA, in partnership with indigenous peoples, to amplify indigenous voices and concerns and move the agenda from word and deeds into action.  Supporting these efforts is "what is next" for us at UNFPA.