The external independent strategic review of UNFPA evaluation function (2017-2018) recommended that the Evaluation Office should guide the evaluation function towards a better balance between accountability, decision support and learning purposes, adapting continuously its evaluation approaches and processes to best inform and support the attainment of the UNFPA mission in rapidly changing and challenging contexts, including by better integrating relevant developments in the theory and practice of evaluation. In response, the Evaluation Office developed and rolled out the 2018-2021 Evaluation Strategy, which included, among others, the priority to increase demand-driven evaluations, and to diversify the offer of typology of evaluations, including through innovation. In this context, the Evaluation Office, responding to a specific demand by senior management, and in alignment with the 2018-2021 Evaluation Strategy, decided to experiment with this "developmental" evaluation of results-based management (RBM) at UNFPA.
Developmental evaluations help to identify innovative options in complex, uncertain and dynamic conditions associated with the development of a new initiative. They are also forward-looking and utilization-focused. This made developmental evaluation the most appropriate approach to provide UNFPA, critical real-time feedback and evaluative input for decision-making to advance RBM to the next level.
The evaluation undertook an analysis of the root causes of persistent challenges in RBM, which surfaced five creative tensions (gaps and challenges). It also brought forth six leverage points that guide the development of RBM solutions and, therefore, for moving to the next stage of RBM. The figure below captures the interplay between the creative tensions and the leverage points, highlighting a change pathway for RBM at UNFPA.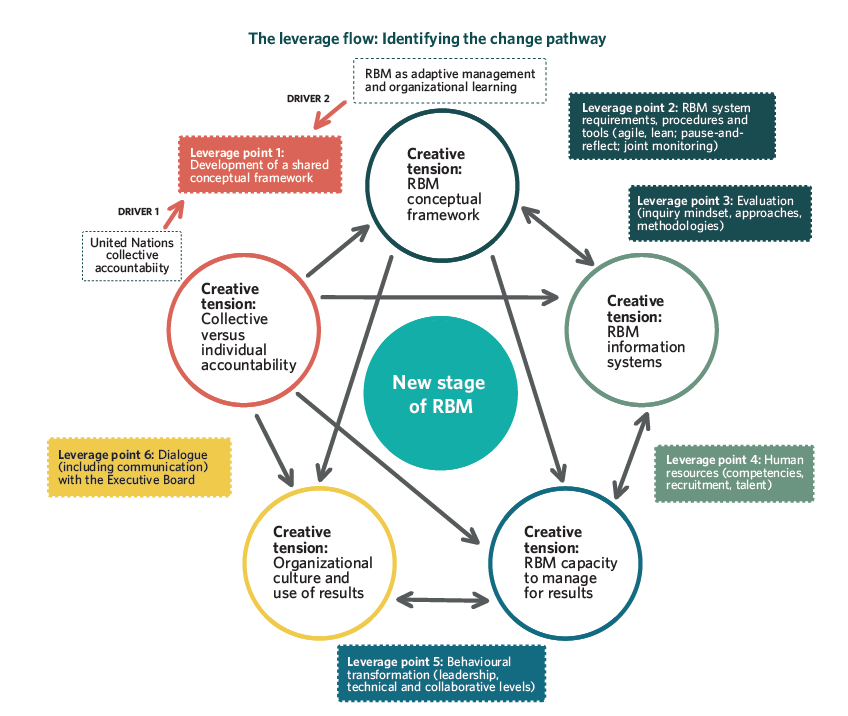 To fuel RBM to its peak at UNFPA, it is critical to nurture continuous engagement of stakeholders in the co-creation and development of RBM solutions, with quick decisions and actions by the organization to seize the momentum generated by the evaluation.