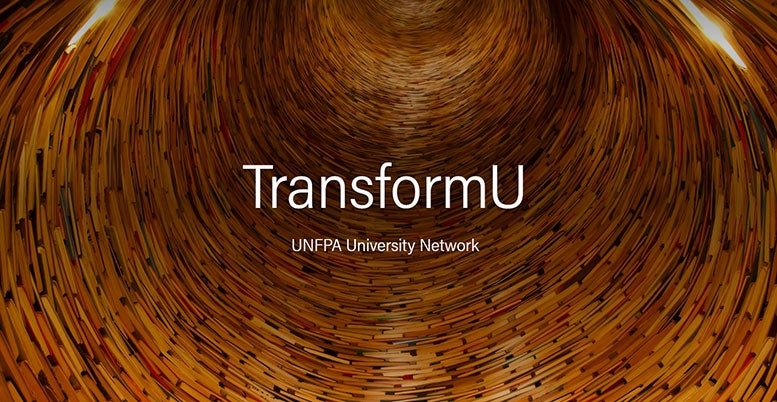 Academic institutions play an important role in the advancement of the Sustainable Development Goals (SDGs) by providing knowledge and expertise in key subject areas. In an effort to work effectively with the academic community, UNFPA created and formally launched a University Network (called TransformU) at the Leitner Center for International Law and Justice at Fordham Law School on March 2019.
With nearly 100 members to date, TransformU is a membership-based network that invites institutions of higher education, continuing education and educational associations to join UNFPA's vision to address the SDGs and, specifically, UNFPA's transformative results. Through research, training opportunities, global innovation challenges, on-campus initiatives and other activities, the network will be a prominent mechanism to align institutions of higher education in supporting and contributing to the realization of UNFPA's mandate.
Prior to launching the network, strategic planning meetings were held in London and New York. Additional planning meetings will take place throughout the year in several locations around the world. In addition to developing regional plans for the implementation of the network, these planning meetings will be a platform to inform and engage the academic and scientific communities on plans towards the Nairobi Summit.
Fill in this form if interested to join TransformU.
For more information about TransformU, please contact spb.office@unfpa.org.
Related content
The Strategic Partnerships Branch within the UN Population Fund is extremely excited to welcome Ms. Mariana Machado as a summer intern. She will be responsible for coordinating the development of the network as well as outreach and communication with TransformU members.
Universities and educational institutions serve as incubators of new ideas, inventions and solutions to many of today's global challenges.
UNFPA organized the 15th Salas Memorial Lecture at the Economic and Social Council Chamber of the United Nations Headquarters. This year's guest speaker was the Swedish Minister for Foreign Affairs, Her Excellency Ms. Margot Wallström.
Pages
Videos
Morgan Freeman narrates this hopeful, must-watch short film about the need to solve the climate change problem. Video b...
Produced by the International Geosphere-Biosphere Programme and Globaia and funded by the UN Foundation.   
NASA animation of temperature data from 1880-2011
Documents
UNFPA awarded certificate for compensating the unavoidable greenhouse gas emissions from the facility and travel operations in 2018.
This Greenhouse Gas Emissions Inventory Management Plan (IMP) provides a detailed foundation for the UNFPA comprehensive effort to measure and manage greenhouse gas (GHG) emissions from its internal global operations....
UNFPA awarded certificate for compensating the unavoidable greenhouse gas emissions from the facility and travel operations in 2017.  
Pages