ANKARA, Turkey – When Rima's* father passed away, her happiness and independence died as well, she says.
She was just 13 years old and living in Syria at the time. Her uncles took charge, imposing strict rules. They forced her to drop out of school at 14, and forbade her from leaving the home.
"It was like a house arrest," she said.
At 16, she was forced to marry a man who verbally and physically tormented her. When she asked for a divorce, he refused and became even more violent.
The war in Syria forced her family to flee to Turkey, where the stresses of displacement worsened her situation.
Pregnant with her second child, Rima tried to kill herself by overdosing on pills, but she was discovered and taken to a hospital.
Liberated from violence
But one day, Rima was able to escape.
The 22-year-old mother of two had learned Turkish while still in Syria, and her skills only improved with time. Finally, she was able to seek help from the Turkish authorities.
She reported her husband's abuse, moved into a women's shelter, and applied for a divorce – though she lost custody of her children.
She also began to visit a UNFPA-supported women's and girls' safe space, which offers refugees a variety of services, including psychosocial support, classes, referrals to health care, and information on sexual and reproductive health.
UNFPA has established 39 of these safe spaces throughout Turkey since 2017, with support from European Union Civil Protection and Humanitarian Aid Operations  (ECHO) and the governments of Japan and Sweden.
A brighter future
Rima's bilingual skills proved to be a great asset. She was hired to work at the safe space as a health mediator, becoming one of 166 Syrian women trained to help other refugee women and girls receive care.
As Rima's confidence increased, her ambitions grew. "I am studying to work as a translator," she said.
Thanks to her income and the legal support she receives at the centre, she is ready to resume the court battle to regain custody of her children.
"Now I am seeking a new home where I can live happily with my children," Rima said. 
I will finally have the life of my own that I have been dreaming of for so many years."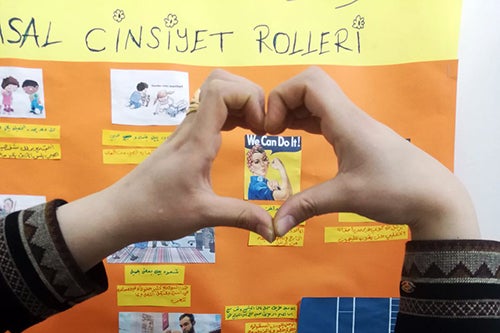 Amira works as a health mediator at a women's and girls' safe space in Turkey, helping other refugee women. © UNFPA Turkey
"I shed my fears"
Amira* endured a painfully similar story.
She, like Rima, had been pressured into a child marriage in Syria. At only 14, she agreed to get married so that her dying mother could attend her wedding.
Her husband isolated her from her family and physically abused her. Amira, too, was pregnant with her second child when she tried to take her own life. She stabbed herself with a knife, but, like Rima, survived.
And Amira's family also fled to Turkey to escape the Syrian conflict.
But for Amira, the stress of displacement was overwhelming. "I didn't have anything to hope for. I had no one to count on, and I was scared of everything," she recalled.
"I couldn't speak the language, so whenever I was asked a question, I just nodded silently. I felt like there were a billion things happening around me that I wasn't part of, or even aware of – like the world existed without me."
One day, she visited a safe space, seeking information about vaccinations for her children. On her next visit, she spoke to a social worker. Then she attended a training session, and eventually met with a psychologist.
"The more I talked to the staff at the women's and girls' safe space, the more I felt liberated," Amira said. "As they gave me guidance, I shed my fears one by one."
Reborn
Today, Amira has learned Turkish. Her husband has stopped abusing her, she said, attributing his change to the safety they have found in Turkey.
She has also become a safe space health mediator, and says the experience has been life-changing.
"I felt like I had been reborn, because I could finally support myself and make my own decisions on how I should run my life," she said. "I am part of the community I live in, and my children are proud of me."
* Names changed for privacy