HARARE, Zimbabwe — "Men do cry," reads a poster in the Harare headquarters of Padare – the Men's Forum on Gender. This short message speaks volumes about the enormous agenda of Padare: to alter deeply-rooted ideas about masculinity, sexuality and gender.
"Padare is anti-sexist," says Eddington Mhonda, the group's advocacy officer. "We need to challenge this destructive concept of manhood that men make all decisions, men need many sex partners, men don't feel comfortable discussing our sexuality."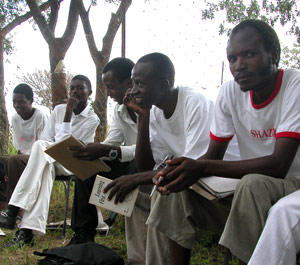 These ideas are literally killing both men and their partners in AIDS-ravaged Zimbabwe. Although the country recently experienced a drop in HIV prevalence rates – down from 24.6 per cent in 2004 to 18.1 per cent in 2006 (according to the Zimbabwe Demographic and Health survey) – it is still one of the countries hardest hit by AIDS. Stopping an epidemic that is being driven largely by men's behaviour, Mhonda argues, requires a shift in the way men view and act upon their ideas of manhood. "Men must change their destructive macho attitudes and behaviours," he says. In addition to fueling the AIDS epidemic, destructive interpretations of masculinity also contribute to the epidemic of gender violence that is sweeping the country.
Many boys and men in Zimbabwe learn to accept gender-based violence and sexual risk-taking as appropriate male behaviour and a means to display their manhood, Mhonda says. These roles, and the association of masculinity with toughness, male honour, and dominance, are anchored in patriarchal attitudes, according to him. In Zimbabwe, as in many places, attitudes about gender and appropriate roles for men and women are acquired at an early age and reinforced throughout life in tacit and explicit ways.
"We need to challenge this destructive concept of manhood that men make all decisions, men need many sex partners, men don't feel comfortable discussing our sexuality."

--Eddington Mhonda
Having multiple partners may be seen as a status symbol, a measure of masculinity and success among one's peers. This is reflected in a mix of practices that are fueling the AIDS epidemic in Zimbabwe, such as multiple and concurrent sexual relations, age mixing, polygamy, the 'inheritance' of widows by other members of the deceased husband's family, and the pledging of young girls in marriage. Conversely, femininity has become associated with weakness and dependence. Especially in rural areas where there is limited access to empowering information and other resources, these notions help to keep women subordinate and disempowered.
While gender norms in Zimbabwe and other places may be rigid and limiting, they are not static. Positive alternatives can be cultivated, and this is exactly what Padare is hoping to accomplish through advocacy, such as the 'Men do cry' poster, and by giving men and boys opportunities to reflect upon and discuss gender issues together.
Padare, which is supported by UNFPA, the United Nations Population Fund, reaches out to men and boys in non-threatening spaces – schools, pubs, sports clubs and churches. It encourages male parliamentarians to generate gender-sensitive legislation. It helps prepare wills to protect the rights of widows and their children. Since men typically attend sports events, Padare uses 'social soccer' to sensitize the community on the importance of male involvement in the prevention of gender-based violence, child abuse and HIV/AIDS. Soccer games are organized for amateur local teams and Padare uses the matches as an opportunity to educate and change attitudes through drama, pamphlets and testimonies.
Padare even trains young men to share in a task that is typically assigned to women: caring for community members stricken by AIDS. In the Chitungwiza and Mabvuku neighbourhoods of Harare, young men involved in Padare's Out-of-School Programme are providing voluntary home-based care for people suffering from AIDS. This helps break down gender stereotypes and gives men a chance to experience a nurturing role. But their caring for sick family and community members has another benefit: It gives a break to the women and girls who have long shouldered this workload, often at the expense of their own opportunities for gainful employment or education.
Padare was founded by five men in 1995 and now has 1500 members spread across 17 chapters nationwide. Each chapter chooses a theme and activities relevant to its environment and issues. For example, the University of Zimbabwe Chapter in Harare focuses its activities on men and sexual abuse taking place within institutions of higher learning. Other chapters take on other issues, such as domestic violence and child abuse. Padare also runs a school programme for youth offering them information on how to avoid contracting or spreading HIV. The programme reaches youth at a time of life when ideas about gender are still in the formative stages.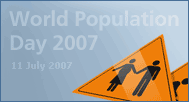 Still, changing ingrained attitudes and behaviours is a Herculean task that requires innovative approaches, Mhonda readily admits. "It is not only about discussing those assumptions about women that have informed men's behaviour towards them – it is about training people out there to make a difference."
Listening to dozens of young members of Padare speak during their weekly meeting in a dimly lit hall in the high density suburb of Mabvuku, one is left with the impression that Padare might have bitten more than it can chew. The litany of problems and expectations is so long and the means to address them are so few. Caregivers expressed frustration that all they can offer the sick and hungry are comforting words. Other members spoke about the lack of official action to stop the defilement of girls by their parents or the sexual exploitation of teenagers by truck drivers waiting for shipments at the local cement factory.
Another challenge comes from an unexpected quarter – women's movements. "We are not getting the support we expected from them," Mhonda says. "Women have been oppressed for so long that they suspect any initiative aimed at promoting gender equality that comes from 'the enemy'."
But Mhonda is an inveterate optimist. He believes in the capacity of people to change, especially when they are faced with life threatening situations such HIV/AIDS. He points to the enormous goodwill and support Padare has received from individuals and organizations, such as UNFPA and UNICEF, in its attempts to make Zimbabwe a more gender-equitable society.
— George Ngwa