UNFPA Innovation announces the launch of a toolkit that will help countries adapt digital solutions to meet the needs of women, adolescents and the most vulnerable. The platform builds on momentum from eight global projects that have helped deliver life-saving information and services with customized platforms from Nepal to Nicaragua. 
"We are in the middle of a technological transformation," said Dr. Muntean from UNFPA Innovation. "Women and girls are more connected than ever before with smartphones. We need to improve our digital tools to engage with women, girls and other vulnerable groups."
Innovation is one of the critical accelerators for UNFPA in their updated Strategic Plan 2022-2025. The goal is to encourage digital accelerators and innovative approaches across all aspects of UNFPA's work.  YouthCONNECT has supported eight projects around the world and has another 15 in development. The unit is now part of the Gender team and draws on decades of experience in developing accurate resources for sexuality and reproductive health and rights education.  
The beta version of YouthCONNECT was started as the mHealth Starter Pack in 2018 in response to a proliferation of uncoordinated app development projects in country offices. The disjointed projects were duplicating efforts and creating uneven results. Mr. Bhandutia is part of the team that recognized the need to harmonize UNFPA's app development projects after a global survey found multiple initiatives happening in silos.   
"Without guidance, country offices were getting locked into contracts with suppliers where they were ill-equipped to navigate the technical dimensions," he said. "We created a basic pack of software options for teams who were considering development of digital health platforms."
Mr. Bhandutia said the team began with a project in Nepal that was looking to deliver health messages for pregnant women. It expanded to include a comprehensive sexuality education project in East Africa, a civil registration tool in Burkina Faso and a case management platform for community healthcare workers in remote regions of Nicaragua. 
"By not reinventing the wheel with each app, we were able to support country offices to move faster by learning from our early mistakes," Mr. Bhandutia said. "Local adaptations are key, but YouthCONNECT is a bank of ideas and experts that can guide projects to start with a wealth of knowledge behind them."
Ms. Brajovic Grigorijevic works with UNFPA in North Macedonia. The country office in Skopjie is using the YouthCONNECT beta pack to develop an application that addresses the learning needs of adolescents with autism. "We are not strong on IT and we saw it as a risk for us to engage a local vendor to work on software solutions," she said. "Software development is especially complicated when none of us are experts in the field." 
At a boot camp in 2019, the YouthCONNECT team offered North Macedonian colleagues the digital solutions they were looking for. "All the functionalities envisaged are provided by using the digital health option we discussed with developers," Ms. Brajovic Grigorijevic said.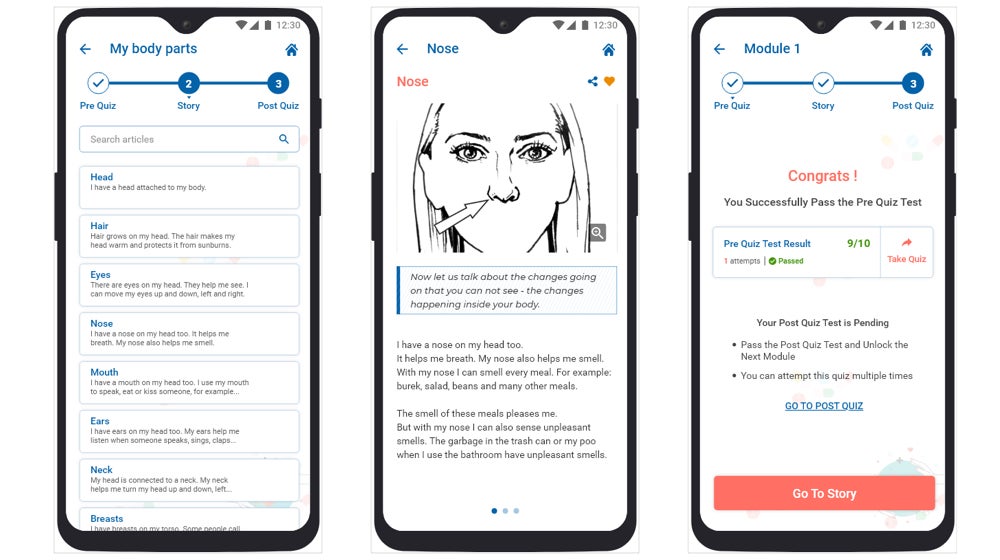 For Dr. Muntean, the next phase of YouthCONNECT is an example of how UNFPA can identify and nourish digital innovations. "Investments in innovation are starting to reap dividends and reach a level of maturity, YouthCONNECT demonstrates how we can support a good idea, refine it and then weave it into UNFPA's core work."
Mr. Alexander D'alessandro worked with UNFPA Nicaragua to develop the Appsistencia Materna smartphone app. The collaboration with Profamilia Nicaragua used YouthCONNECT to provide care for pregnant women, family planning and comprehensive sexuality education, and added a teleconsultation component that allows virtual monitoring by doctors during the pregnancy and timely care to every patient. In November 2021, UNFPA Nicaragua's Appsistencia Materna won the UNFPA Innovation for Impact Award for the Latin America region.
"YouthConnect provided us with a solid technological base upon which to build up and scale our innovative solutions in order to meet our end-users,"  Mr. D'alessandro said. "The platform provided us with a reliable and ready-to-go tech suite, which enabled us to save costs in application development and redirect those funds towards other key priorities".
Dr. Muntean said YouthCONNECT can help UNFPA take big strides towards its goals of 'zeros' on maternal mortality, gender-based violence and unwanted pregnancies. "Engaging and informative apps are vital tools that help us cover that 'last mile' in delivering information on life-saving services. Innovations like YouthCONNECT are just the beginning of a process of digital disruption."
UNFPA Innovation is devoted to identifying and amplifying new approaches that expand the reach of our work. With a global network of partners in medicine, tech, government and finance, UNFPA Innovation supports projects like YouthCONNECT to enhance solutions that disrupt inequality.
 
Learn more
App to help young people with autism learn about their bodies