A new tripartite agreement between UNFPA, the Korea International Cooperation Agency (KOICA) and UN Women will combine the strengths of the three partners to improve the lives of women and girls and accelerate the achievement of gender equality, as expressed in Sustainable Development Goal (SDG) 5.
"The 2030 Agenda embraces gender equality and the empowerment of all women and girls with a broader scope," said UNFPA Executive Director Dr. Natalia Kanem during the signing. "It stresses their role as accelerators for various aspects of sustainable development." 
The memorandum of understanding, signed on 27 September at UNFPA Headquarters in New York, expresses a commitment to work together through innovative country-level joint programmes and other forms of strategic engagement.
The collaboration signals a growing and diversified partnership with the Republic of Korea in support of UNFPA's mandate and programmes.
"The goals of UNFPA's Strategic Plan 2018-2021 are enabled by gender equality," noted Dr. Kanem. "With the support of partners like KOICA, we aim to end preventable maternal deaths, end unintended pregnancies by meeting the demand for family planning, and end gender-based violence and harmful practices, such as child marriage – a manifestation of inequality and discrimination – by 2030."
Innovative financing for SDG 5
Gender equality has been a top priority in Korea's development cooperation. The country has been a staunch supporter of the health and education of adolescent girls and women, recognizing that their empowerment and well-being constitute a powerful indicator – and accelerator – of sustainable development.
Highlighting the discrepancy between the "tremendous level of violations and abuse of women's rights" worldwide – and the minimal global development budget for gender equality and women's empowerment – KOICA President Lee Mikyung, a former parliamentarian and longstanding women's rights activist, described the new partnership as a cornerstone of Korea's push for a global collaboration on gender equality and SDG 5.
KOICA envisions the new SDG 5 Global Fund as an innovative, multi-stakeholder financing facility that will harness the resources and efforts of Governments, the private sector, academia and civil society to accelerate gender-responsive implementation of the SDGs.
"The MOU with UN Women and UNFPA," said Ms. Lee, "is expected to be a key foundation and platform for solidarity and collective engagement for gender equality."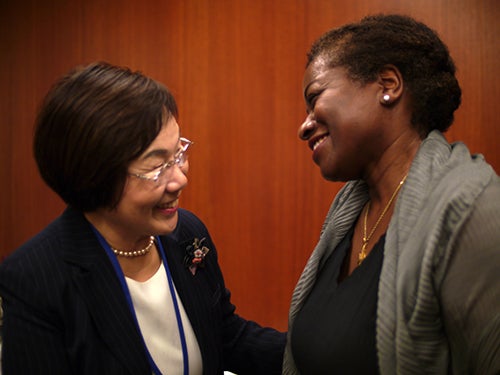 The new agreement marks a growing and diversified partnership between UNFPA and Korea. © UNFPA/Tara Milutis
Lifting together
UN Women Executive Director Phumzile Mlambo-Ngcuka noted that the partnership is in line with "the collaborative spirit of the UN Reform" and will build on previous collaborations such as the KOICA-funded Joint Programme for the Empowerment of Adolescent Girls and Young Women through Education (2016-2021). 
The work on the ground, she emphasized, will be where this partnership will make a difference. "We look forward to seeing this agreement translate into practical examples of joint work," she said, "particularly at the country level, where it matters most."
UNFPA and UN Women are working on joint programme proposals in Cambodia, Colombia and Tanzania.
To further strengthen and advance the collaboration with Korea, Dr. Kanem announced that she will open a new UNFPA liaison office in Seoul in the coming months.
"Achieving SDG 5 is no small task, and is much more difficult than lifting a sheet of paper," she said, citing the Korean proverb 'If you lift together, it's better – even if it's a sheet of paper'. "We look forward to working together to advance the gender equality agenda."