UNITED NATIONS, New York – A new strategic partnership will leverage the combined brainpower of UNFPA and Philips to improve the health and well-being of 50 million women and girls in the countries where health challenges are greatest.
The global Memorandum of Understanding, signed today at UNFPA Headquarters in New York, launches a collaboration to develop and scale high-quality health care solutions – driven by cutting-edge technologies and supported by innovative financing – to serve the most vulnerable and hard-to-reach communities. 
"We see huge potential in this thought partnership for innovation," said UNFPA Executive Director Dr. Natalia Kanem during the signing ceremony. 
"If there are millions and millions of women and girls who need services, and if technology can really catapult those services to scale – we want to be there with you," she added, addressing Henk Siebren de Jong, Chief of International Markets for Royal Philips.
In his remarks, Mr. de Jong noted the shared vision that motivated the company to team up with UNFPA, and emphasized that making a difference is integral to Philips' mission. 
"We really want to touch people's lives," he said. "Yes, we are a company, and yes, we have shareholders – but we also have stakeholders. So this is for us a very important project." 
Quality solutions that leave no one behind
Building on the 2017 Mandera County partnership in Kenya, UNFPA and Philips will launch the new collaboration with a pilot in Congo-Brazzaville. The two partners will work together to strengthen countries' health systems and accelerate the achievement of universal health coverage – to ensure that women from the poorest and hardest-to-reach communities can experience healthy pregnancies and safe deliveries, obtaining the care they and their newborns need at every step.
The partners will undertake common research and development and collaborate on innovations in areas including mobile Health (mHealth) and other digital technologies geared towards reaching the last mile. The collaboration will also boost UNFPA's ongoing efforts to build countries' capacities to collect, analyse and use health data for more effective decision-making.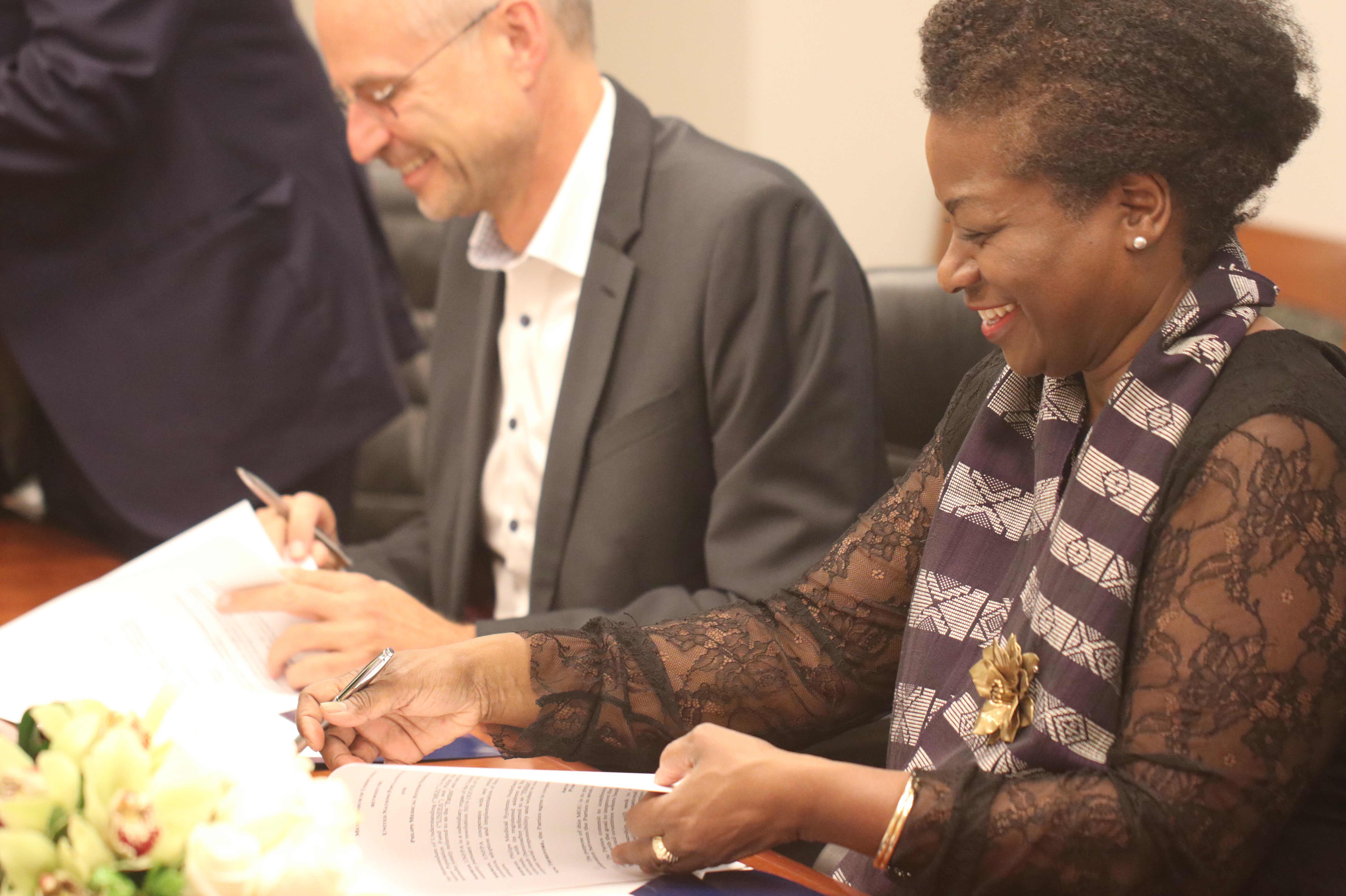 The signing of the global memorandum of understanding launches a collaboration that will combine the strengths and competencies of the two partners – to serve the most vulnerable women and girls worldwide. © UNFPA/Usenabasi Esiet
"There is so much opportunity in data management, and also in connectivity," said Mr. de Jong. "We can really reach more women and children in rural areas."
The two partners' approach to developing new health care interventions will put women and girls at the centre, to ensure that these solutions are accessible to all users, respond to the most pressing needs of national health systems and the people they serve, and add real value.