In 2021, Nigeria becomes a key partner to UNFPA's coalition of core contributors supporting rights and choices for all. 
Nigeria, Africa's most populous nation, has become UNFPA's most recent African partner to help deliver on our mandate and has joined our coalition of contributors supporting rights and choices for all.
As the world was marking the start of 16 Days of Activism against gender-based violence, UNFPA Executive Director Dr. Natalia Kanem was in Nigeria to launch the campaign. She paid tribute to Nigeria's support and commitment to the sexual and reproductive health and rights of women, girls, and young people in Nigeria and the region. 
Nigeria's government demonstrated its engagement to UNFPA's mandate, both politically and financially, with a financial contribution to UNFPA's core funding. In 2021, the UN sexual and reproductive health agency will receive a new contribution to core resources from the Government of Nigeria of US$250,000 as multiyear core contribution to UNFPA for 2021-2025, and US$4,050,000 for 2021 as non-core resources (a similar contribution is planned for 2022). 
UNFPA's regular resources are crucial to realizing UNFPA's mandate. They are at the core of everything that we do, to ensure women and girls have the rights to make decisions over their bodies and futures.
"This has potentially a massive benefit when you think of the geometric expansion of good that comes when we invest in women and girls and communities," says Dr. Natalia Kanem, acknowledging Nigeria's contribution.
In addition to acknowledging Nigeria's newest core contribution, Dr. Kanem also recognized President Muhammadu Buhari's advocacy to increase budgetary allocation to family planning.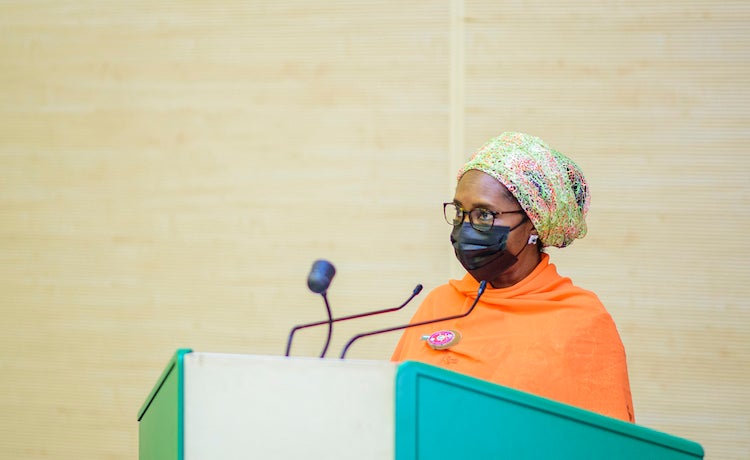 During a meeting with the several ministers of the Nigerian government and the National Population Commission, Zainab Shamsuna Ahmed, the Minister of Finance, Budget and National Planning of Nigeria said: "The commitment of the government at the national level has spurred ministers to champion the achievements of UNFPA's three transformative results in the country."
Nigeria's new contribution not only shows its desire to meet the needs of its country's most vulnerable groups (including women, adolescents, youths as well as internally displaced persons), but it also demonstrates the country's willingness to pursue UNFPA's vision 2030 in Africa and everywhere: zero unmet need for family planning, zero preventable maternal deaths, and zero violence or harmful practices against women and girls. 
In Nigeria, UNFPA works to reduce maternal mortality, contribute to universal access to sexual and reproductive health services and contributes to the reduction of gender-based violence, female genital mutilation and child marriage. 
A country of young people - with 63 per cent falling under the age of 25 - UNFPA also works to prioritize and engage young people, to give them access, choices, and a seat at the table to help build a more equal future for all.
With this new contribution, Nigeria is showing solidarity not only with the Nigerian women, girls and young people, but with all those across the world who do not have access to sexual and reproductive health, who suffer from violence, and whose needs for health are not met. As the world continues to grapple with the impact of COVID-19, Nigeria demonstrates that we can unite as a whole international community to show solidarity and support for all women and girls. 
To date in 2021, 93 countries have committed to our UNFPA core resources, and our target is 110 donors by end of year.