We are thrilled to announce the Top Ideas from our global innovation crowdsourcing challenge in partnership with OpenIDEO, focusing on youth sexual and reproductive health.
In Kenya, access to sanitary pads in schools and public areas can be problematic for girls. Inteco Kenya aims to protect women and girls' dignity by designing cashless sanitary pad dispensers. Through the cashless system, they want to reach adolescent girls by making it easier to obtain single sanitary pads in public bathrooms in Nairobi's slum areas.
"We are super excited about this new chapter in our journey. Winning the challenge has put a spring into our step. It has validated all the trials that we have faced. We honestly cannot wait to see what is in store for us." Munira Twahir, Founder and Strategy Director, Inteco Kenya
Sustainable and reusable menstrual hygiene products and contraceptives are not always readily available for women and girls living in rural areas. Women's Global Health Innovations aims to introduce and implement the Bfree Duo, a combined innovative menstrual hygiene management and contraceptive technology with knowledge support and training, to address the personal health needs of adolescent girls living in northern Uganda refugee settlements. The idea for a dual purpose device was inspired by adolescent girls who were already using the cup, asking if if could work as a contraceptive.
Taboos, stigma and lack of education about periods can make it difficult for girls to learn about their bodies and have open conversations. BeGirl designed a SmartCycle app and educational menstrual tracking tool to engage and educate adolescent girls on menstruation and SRH in Colombia and Mozambique. Boys also learn about menstrual hygiene to promote learning and respect for their female peers.
Lack of access to sanitary pads or fear of being stigmatized can keep girls out of school. Smart Bags4Girls is a project in Uganda that produces a special menstrual kit of reusable pads, a calendar and illustrated SRH information for girls to carry confidently to and from school, in and out of the washrooms. The Smart bags are designed by and for the young women and girls and offer an eco-friendly, practical and fashionable solution.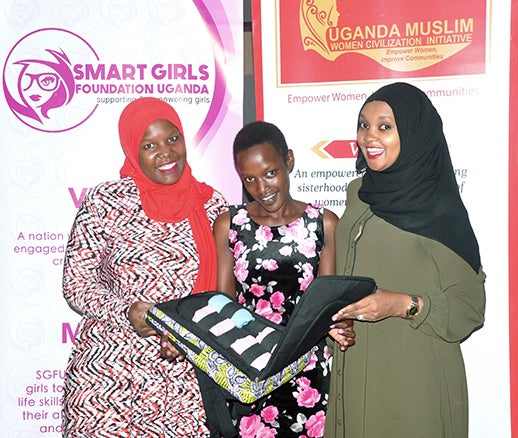 "Change is worth fighting for. We are so happy for winning this challenge since its going to enable us empower the vulnerable adolescent girls." Shamim Nantumbwe, Program Manager Smart Bags4Girls, Managing Director, Smart Girls Foundation Uganda.
The global crowdsourcing challenge is another way that UNFPA is moving forward to reach our transformative results through innovation and partnerships to source and build a new pipeline for innovation.
These Top Ideas represent promising innovations on menstrual health to improve girls and young women's overall health, dignity, mobility, and well-being, particularly in rural and low-income settings.
UNFPA will be supporting these social enterprises with partnership, financial and technical support. The vision is to support the selected ideas to strengthen their approach and design, to pilot and test the most promising models during a limited period of time, and support the scaling up of those who have demonstrated a strong potential.