Dignity Kit - Cyclone Pam
March 2015
Author:
UNFPA Asia and Pacific Regional Office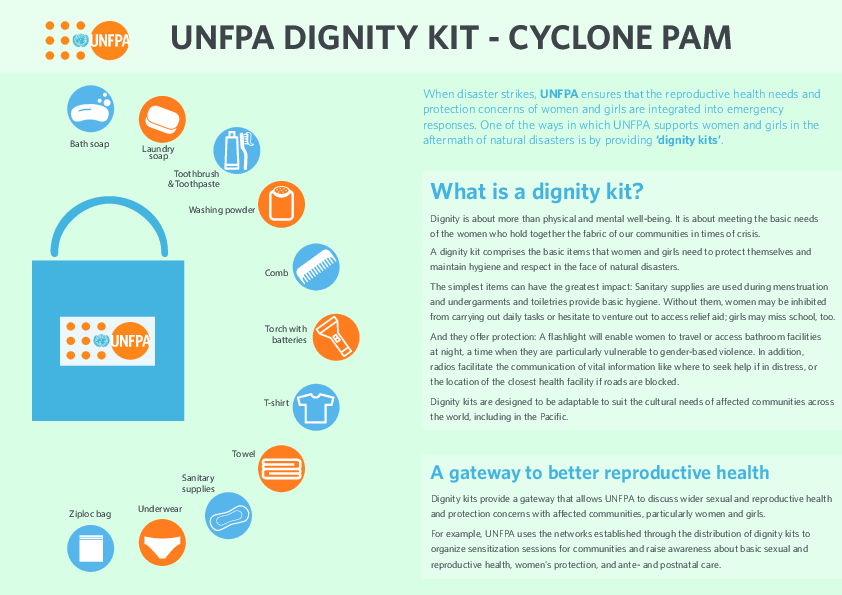 Related content
News
DADAAB, Kenya — "It is distressing to hear the stories of women with small children who had to walk for over 25 days to get to the refugee camp," said UNFPA Regional Director for Africa Bunmi Makinwa, who was assessing conditions in Dadaab refugee camp in Kenya today.
News
ISLAMABAD, Pakistan — One year after Pakistan's worst flooding in decades, UNFPA continues to deliver comprehensive reproductive health care as part of one of its largest-ever humanitarian response efforts.
News
UNITED NATIONS, New York—UNFPA Goodwill Ambassador in Portugal, Catarina Furtado, went on a mission to Haiti from 10 to 18 July 2011, where she toured a number of projects supported by United Nations agencies, including UNFPA, focusing on issues of reproductive health, gender,...
Pages