Egypt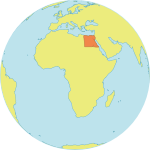 Maternal Mortality Ratio
37
Contraceptives prevalence rate
44
Population aged 10-24
26.2%
Youth secondary school enrollment
Related content
Every girl has the right to speak up and be heard. Now, more than ever, it's time for us to listen. Today, as we celebrate the International Day of the Girl, we have an unprecedented opportunity to uplift the adolescent girl, to drive progress in our world.
As we seek...
Yesterday, leaders at the United Nations commemorated the 25th anniversary of the historic Fourth World Conference on Women, when more than 30,000 activists and advocates convened in China to adopt a comprehensive agenda to realize gender equality, known as the Beijing...
Sexual and gender-based violence affects one in three women and girls globally. In some humanitarian settings, this figure is estimated to be two in three.
Pages