Turkey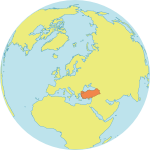 Maternal Mortality Ratio
17
Contraceptives prevalence rate
48
Population aged 10-24
24.1%
Youth secondary school enrollment
Related content
Statement by UNFPA Executive Director Dr. Natalia Kanem on the International Day of the Girl, 11 October
Around the world, girls are challenging gender stereotypes and breaking free from the traditional roles that society has dictated for generations. More and more...
The mental health consequences of crisis and conflict are serious, yet often overlooked. Those caught in humanitarian emergencies suffer psychological trauma and invisible wounds as devastating and crippling as any physical harm.
33rd Dr. Eric Williams Memorial Lecture delivered by Dr. Natalia Kanem, Executive Director, UNFPA, in Port of Spain, Trinidad and Tobago.
Pages