Turkey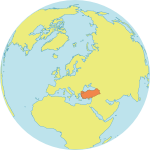 Maternal Mortality Ratio
16
Contraceptives prevalence rate
75
Population aged 10-24
24%
Youth secondary school enrollment
Related content
The mental health consequences of crisis and conflict are serious, yet often overlooked. Those caught in humanitarian emergencies suffer psychological trauma and invisible wounds as devastating and crippling as any physical harm.
33rd Dr. Eric Williams Memorial Lecture delivered by Dr. Natalia Kanem, Executive Director, UNFPA, in Port of Spain, Trinidad and Tobago.
The Spotlight Initiative reviewed its early achievements at a high-level event on the sidelines of the 74th UN General Assembly.
Pages