UNITED NATIONS, New York— If modern contraceptive services were available to all 201 million women with unmet need in the developing world, 1.5 million women and children would be saved each year, and the number of unplanned births would be reduced by 72 per cent, according to a new publication by UNFPA, the United Nations Population Fund. Fewer unintended pregnancies means healthier women and babies, and fewer maternal and infant deaths.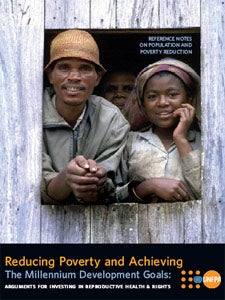 Reducing Poverty and Achieving the Millennium Development Goals: Arguments for Investing in Reproductive Health & Rights  outlines future dividends of investing in reproductive health. These dividends would be reflected in healthier, more productive individuals and families, which would contribute to stronger, wealthier nations.
The publication was released at United Nations Headquarters today during a Roundtable on Health featuring senior representatives of various governments and United Nations agencies.
Among the many benefits of reproductive health are improving family and community well being, boosting economic gains, saving women's and children's lives, and greatly curbing the spread of HIV/AIDS – benefits that go a long way in helping to achieve the Millennium Development Goals.
Poor reproductive health, says the report, accounts for a sizeable proportion of the world's total burden of disease and disability – as high as 1/3 among all women, and 1/5 of the total global burden, including men and women.
Almost half of the world's six billion people are under the age of 25, and the largest group of adolescents is entering its reproductive years and the workforce. How these young people fare will have lasting consequences for countries' future development. Today's investments in adolescents' health and development, says the publication, will consolidate the gains from initial investments in child survival and primary education.
In addition to the many physical and psychological benefits of investing in sexual and reproductive health, the publication highlights the economic returns that go beyond the health sector—including public expenditures on education, housing infrastructure, food, and other social services. Every US dollar invested in family planning, for example, has saved more than $16 in Thailand and $31 in Egypt.
Access to family planning leads to lower levels of mortality and fertility. This creates a larger body of young people with the ability to be active in the workforce, leading to a "demographic window" that yields powerful macroeconomic benefits. With a greater proportion of potential workers relative to dependents, "a country has the opportunity to boost economic growth through higher short- and medium-term savings and investment," says the publication. The demographic window could reduce poverty in developing countries by about 14 per cent between 2000 and 2015.
The publication also presents a list of practical ways to invest in reproductive health. The list was included in the "Stockholm Call to Action," which was endorsed by a number of ministers, parliamentarians and leaders of multilateral agencies, civil society and youth organizations earlier this year. The document calls for investments to empower women to participate fully in development, to promote and build more equitable health systems, to link HIV/AIDS efforts with reproductive health, and to support young people's health and development. The document also underscores the interdependence among development, security and human rights.
* * *
UNFPA is the world's largest multilateral source of population assistance. Since it became operational in 1969, the Fund has provided substantial assistance to developing countries, at their request, to address their population and development needs.
Contact Information:
Omar Gharzeddine
Tel.: +1 (212) 297-5028
Email: gharzeddine@unfpa.org