Haiti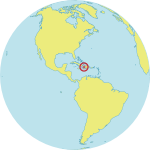 Maternal Mortality Ratio
480
Contraceptives prevalence rate
27
Population aged 10-24
29.9%
Related content
Funding shortages are making it increasingly difficult for humanitarian actors to meet the staggering needs of the humanitarian crisis, with 31 out of UN's 41 major humanitarian programmes expected to reduce or shut unless funding becomes available within the coming months....
Within the Syria crisis region, which spans the whole of Syria, Turkey, Lebanon, Jordan, Iraq and Egypt, there have been a total of 129,407 confirmed cases of COVID-19 as of April 30, 2020.
UNFPA and its partners are scaling up efforts to empower and improve the lives of Syrian women, youth and impacted communities inside Syria and in host countries, including by advocating for human rights and gender equality to better equip individuals and communities to cope...
Pages