Afghanistan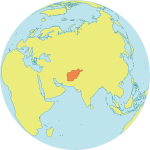 Maternal Mortality Ratio
638
Contraceptives prevalence rate
18
Population aged 10-24
35.3%
Youth secondary school enrollment
Related content
MELBOURNE, Australia – Every hour, about 80 young people are newly infected with HIV, according to the recently released Gap Report by UNAIDS. The participation and leadership of young people will therefore be critical in bringing the global HIV epidemic to an end.
UNITED NATIONS, New York – On 11 July, as communities everywhere observe World Population Day, UNFPA calls for investments in support of the largest-ever generation of youth.
COLOMBO, Sri Lanka – Young people hold the keys to the future; unlocking their potential will lead to a better world for everyone. These facts are supported by mounting evidence from Sri Lanka, where UNFPA has worked with partners to support and empower youth.
Pages