Afghanistan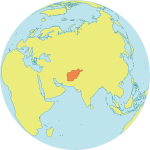 Maternal Mortality Ratio
638
Contraceptives prevalence rate
18
Population aged 10-24
35.3%
Youth secondary school enrollment
Related content
KABUL, Afghanistan – Purple is the colour that midwifery students proudly wear in a small but revolutionary school in the busy Afghan capital, Kabul. In a country where a woman dies every two hours from pregnancy-related complications, midwives play a key role in promoting safe...
UNITED NATIONS, New York – New data from the United Nations reveal that maternal deaths have declined by 45 per cent since 1990. Some 523,000 deaths occurred from complications in pregnancy or childbirth in 1990; in 2013, that number was 289,000. Despite this progress, most...
GENEVA / NEW YORK – New United Nations data show a 45 per cent reduction in maternal deaths since 1990. An estimated 289 000 women died in 2013 due to complications in pregnancy and childbirth, down from 523 000 in 1990.
Pages