Afghanistan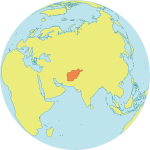 Maternal Mortality Ratio
638
Contraceptives prevalence rate
18
Population aged 10-24
35.3%
Youth secondary school enrollment
Related content
DHARAN, Nepal – Dhani Devi Mukhiya remembers the days when her relatives shunned her in public and her husband threatened to bring home another wife. For some of the villagers in her community in Nepal, the obstetric fistula that she lived with for seven years was 'punishment...
UNITED NATIONS, New York – The theme of this year's International Day to End Obstetric Fistula, "Tracking Fistula – Transforming Lives," reflects an important step forward in eradicating this preventable condition, which affects an estimated two million women and girls in...
KABUL, Afghanistan – "I was 15 years old when I got married, and my husband was 22. My sister-in-law saw me at one of my relative's wedding and made all the arrangements for her brother to have me," Sharifa recalls. Forty years later, she describes this as the start of a life...
Pages